All-On-4 Dental Implants – Houston, TX
Get a Complete Smile in a Single Visit
Dentures have always been an excellent choice for people who are missing all of their teeth along both their upper and lower arches. They compensate for tooth loss and help to fill out your facial features, so you have a more natural and youthful appearance. Now, however, you can choose a type of denture that is even better. All-On-4 refers to dentures that are secured into place by dental implants. With All-on-4 dental implants our Houston, TX dentists at Sunrise Dental Center can give you the appearance and functionality of natural teeth, so you'll be able to eat, talk, smile and laugh with confidence.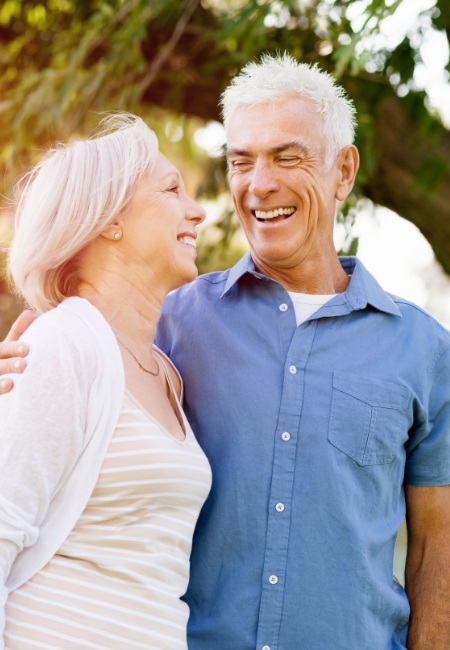 Why Choose Sunrise Dental Center for All-On-4 Dental Implants?
Start-to-Finish Dental Implants
Experienced Implant Dentist
We Accept Dental Insurance
How are All-on-4 Dental Implants Different from Traditional Dental Implant-Retained Dentures?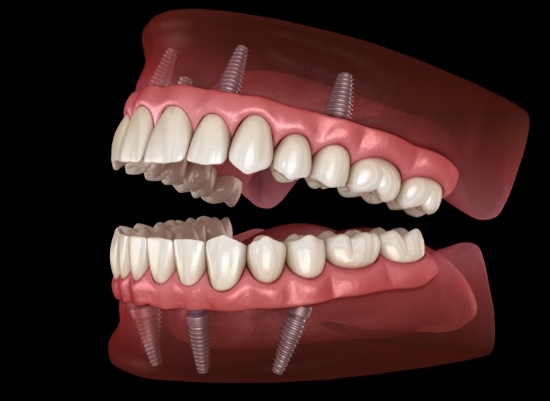 As the name of this prosthetic treatment suggests, All-On-4 are based on four dental implants that are strategically positioned in your jawbone. Ordinarily, six to eight implants along either or both your upper and lower arch may be required for implant dentures. What makes only four necessary with these All-on-4 dental implants in Heights? The positioning and size of the implants.
All-On-4 implants are set at an angle in order to take advantage of greater strength and stability from your jawbone. These dental implants are also somewhat smaller than standard implants, making the need for bone grafting less likely.
The All-On-4 Dental Implants Process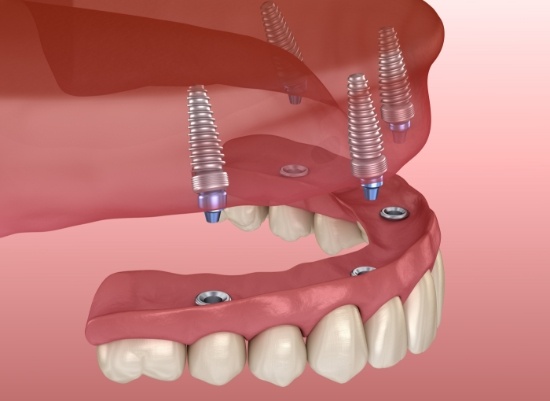 Immediately after your implant surgery, a temporary set of dentures are attached to the implants so you don't spend any more time without teeth. This temporary set gives your gums time to heal and the implants time to bond with the surrounding bone tissue. This bonding process is what creates the firm anchor for your dentures. Moreover, the implants stimulate healthy new bone growth just as your natural tooth roots once did. This new growth lessens the likelihood of bone deterioration, which can often lead to a sagging facial appearance.
After you've completely healed from surgery and the implants are fully integrated into your jawbone, you'll return to your dentist in Houston so we can attach your permanent All-on-4 dentures. With these dentures, you will have a solid smile and a renewed sense of confidence in as little as a single appointment.
If you've been dealing with the challenges of missing teeth, don't hide your smile any longer. Let us restore your oral health with All-on-4. Call our dental office today at (713) 597-8032.
Caring for Your
All-on-4 Denture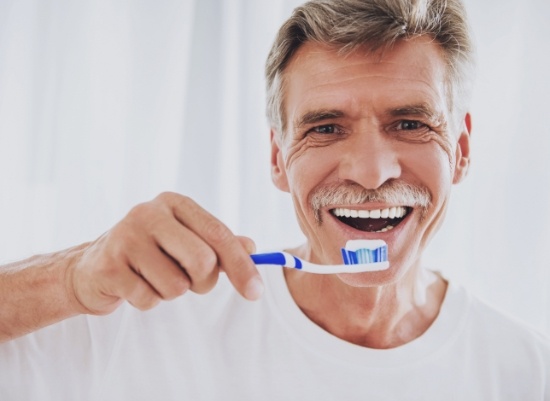 Essentially, All-On-4 dental implants and dentures are non-removable false teeth. With twice daily brushing and once a day flossing, patients care for them just as they would their natural teeth. Unlike standard dentures, they are not removed nightly for cleaning and soaking. You will still need to schedule regular checkups with your dentist so we can examine the health of your gum tissue and the rest of your oral cavity.
All-On-4 Dental Implants Frequently Asked Questions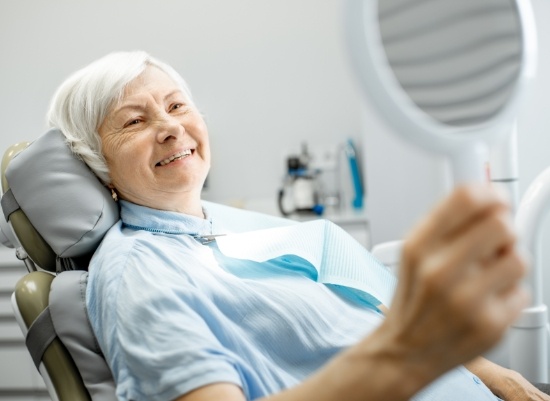 If you're ready to stabilize your denture without needing bone grafting, All-On-4 in Heights may be the solution for you. Although you're excited to enjoy a close replica of your natural teeth, we know you have several questions about the treatment before you're ready to commit to it. We take the time to explain the process during your initial consultation. While you wait, here are the answers to a few of the most common questions we hear to help you make the best decision for your smile.
What is the success rate of All-On-4?
Although fewer dental implants are used to support the denture, it doesn't compromise the longevity of your new smile with the right aftercare. In fact, studies show All-On-4 has a success rate of over 98% when proper oral hygiene habits are followed, and regular dental appointments are maintained.
Who is the ideal candidate for All-On-4?
If you've lost all your natural teeth in one or both arches, you might be a candidate for All-On-4, even if you've experienced bone loss. The ideal candidate has good oral and general health. Your dentist in Heights will perform a thorough consultation to ensure there are minimal risk factors of complications.
What are the benefits of All-On-4?
All-On-4 allows you to enjoy the same benefits of a traditional implant denture, as well as a few others, such as:
Potential to last for decades with the right aftercare.
Prevents the need for bone grafting.
No need to go without any teeth while you heal.
Regain as much as 70% of your natural biting force.
Preserves your jawbone's density.
Looks and feels natural.
Cost-effective, long-term solution.
Can All-On-4 dental implants fail?
It's rare for All-On-4 to fail, but there are several things you can do to lower your risk of complications, like maintaining your oral hygiene at home. You'll also need to visit your dentist at least twice a year for a cleaning and checkup. If you develop any concerning symptoms, like pain, redness, or swelling, don't hesitate to contact our dental office.
Can I use my dental insurance?
Although every dental insurance policy differs, most plans will cover a portion of the cost to lower the amount you need to pay out-of-pocket. You'll need to pay your premiums and your deductible before you can use your annual allowance. We know dental insurance can be confusing, which is why we will work on your behalf to file the necessary claims and paperwork for reimbursement. We will explain how your benefits are being used and discuss any remaining balance.
How can I pay for my new smile?
Besides using your dental insurance, there are several options to keep your new smile within your budget. We accept traditional forms of payment, and we accept CareCredit. The third-party financing gives you the funds you need to pay for the procedure, which you'll repay using a plan that accommodates your budget. Our dental office will help you find the solutions you need to replace your missing teeth without breaking the bank.