Teeth Whitening – Houston, TX
Safe, Reliable, Trusted Professional Teeth Whitening
Many Houston dental patients visit our dental office wishing for a brighter smile. However, we find more and more often that people have tried to whiten their teeth at home using store bought teeth whitening toothpastes, mouthwashes, strips, and gels. These products make dramatic promises about delivering flawless, bright white smiles, but they cannot typically deliver the promised results. That's where the Sunrise Dental Center team can help. Our skilled cosmetic dentist and team have years of experience offering effective, predictable teeth whitening results up to ten shades brighter. If you're ready to get the picture-perfect smile of your dreams, call our dental office to schedule your cosmetic dentistry consultation today to discuss how we can brighten your smile with teeth whitening in Houston, TX.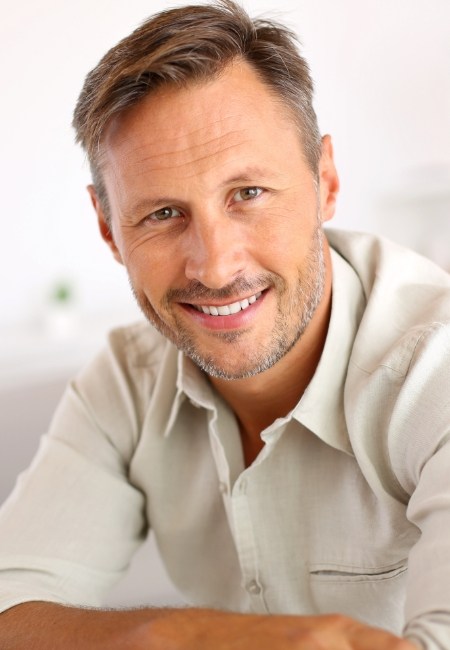 Why Choose Sunrise Dental Center for Teeth Whitening?
Safe & Long-Lasting Teeth Whitening
We Offer Additional Financing
Take-Home & In-Office Treatments
How Do Teeth
Become Discolored?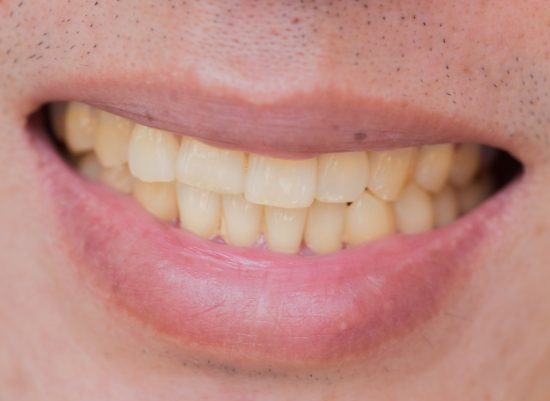 Before we begin any teeth whitening plan, we'll want to understand the cause of your dental discoloration. This ensures we will provide effective treatment that directly addresses your unique cosmetic dentistry needs. Some of the common reasons for dental discoloration include:
Consuming dark colored foods and drinks
Aging or excessive enamel wear that reveals the interior, yellow dentin layer
Bright white spots on the teeth that indicate fluorosis caused by excessive fluoride ingestion as a child
Genetics may also be the cause as some people just have naturally darker tooth coloring
Zoom! In-Office
Teeth Whitening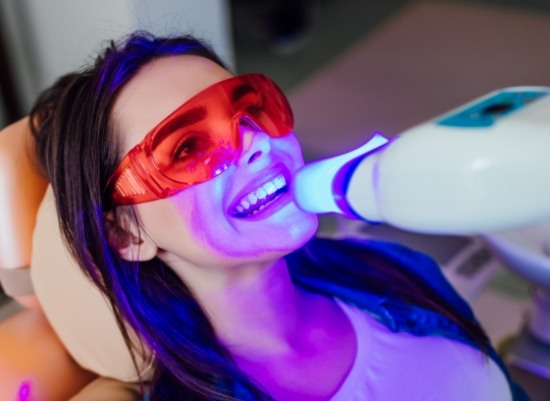 Zoom! teeth whitening is a popular and effective in-office treatment option. Most patients who choose Zoom! whitening are able to achieve smiles six to ten shades brighter in just about an hour. Before treatment begins, we isolate the teeth to be whitened by placing protective plastic dams. Then, a coat of the Zoom! whitening gel is placed and a low heat accelerating light is applied to the smile. We will check the progress of treatment every twenty minutes, and reapply as necessary until patients achieve their desired results.
Take-Home
Teeth Whitening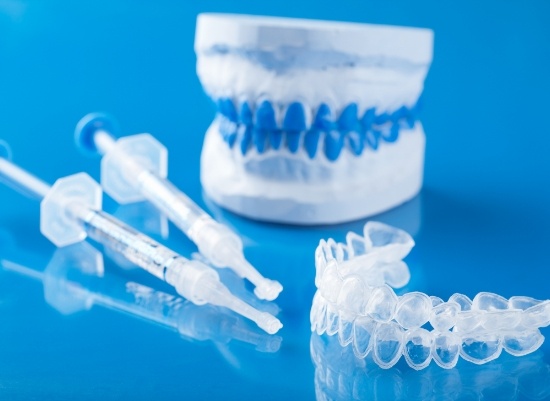 Unlike store bought teeth whitening products, our professional take-home kits are able to provide the same dramatically brighter results possible with in-office teeth whitening. We provide a personalized dose of active whitening gel and a custom fitted whitening application tray. Used together, the quality teeth whitening gel and application trays provide the necessary materials and application methods to whiten teeth. The perfectly fitted application trays keep the personalized doses of professional grade whitening gel on the surfaces of teeth.
Additionally, the properly fitted application trays prevent neutralizing oral saliva from accessing the whitening gel and halting progress. Worn for about half an hour a day, patients will typically see their desired results after two weeks of daily application.
Benefits of Professional
Teeth Whitening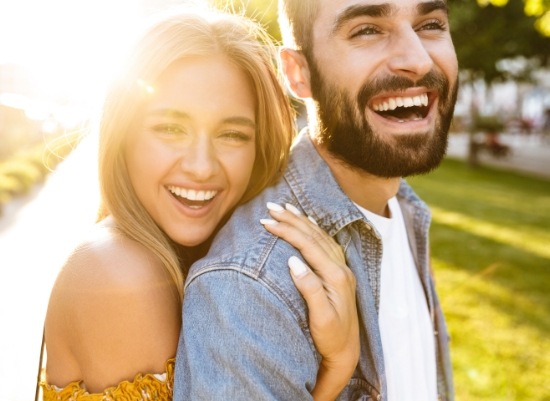 There are numerous benefits to investing in cosmetic dentistry results that you can count on, and teeth whitening is one of the simplest and most cost-effective treatments that will deliver stunning results. Some of the benefits of professional teeth whitening include:
Predictable results up to ten shades brighter
Professional application ensures safety and efficacy of treatment
Flawless smiles you'll be proud to share
Improved confidence during professional and personal interactions
People who are proud of their smiles are more likely to properly care for their teeth improving oral health
Understanding the Cost of Teeth Whitening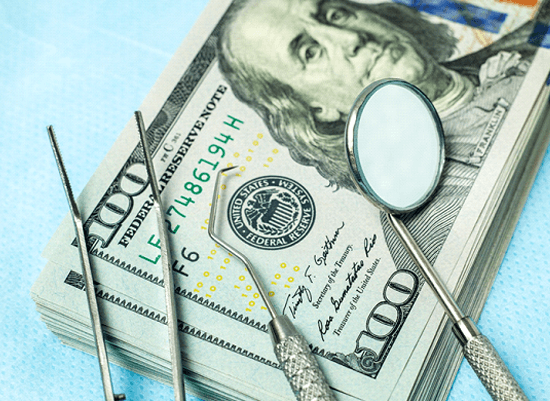 One factor that often stands in the way of patients and their ideal, bright smile is the cost of teeth whitening. Many people believe that visiting a professional for treatment is drastically more costly than buying products over-the-counter to use, but the truth is that you can actually save by choosing a trusted cosmetic dentist since there's less risk to the health and safety of your mouth. Learn more about what can influence the cost of treatment and some easy ways to afford it!
Factors That Affect the Cost of Teeth Whitening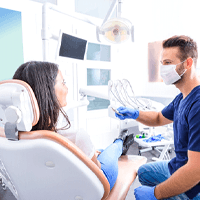 Teeth whitening treatments are typically a set price. However, there are some instances in which you may require more than one treatment to get the results that you're hoping for, including:
If you have serious stains or discoloration
Whether you have extrinsic (located on the surface of the enamel) or intrinsic (located deeper within the tooth) discoloration
Why your staining has occurred (due to aging, taking certain medications, etc.)
If you require dental work before being a good candidate for treatment, like a filling or crown
In any of these scenarios, our team at Sunrise Dental will discuss your plan with you, as well as walk you through a detailed cost estimate, so you know exactly what to expect to pay out-of-pocket before moving forward.
Types of Teeth Whitening & Their Costs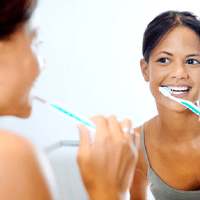 We believe in meeting our patients where they are, so they can enjoy convenient, safe, and effective treatment, which is why we offer both in-office and take-home professional teeth whitening. However, we realize that there are other options on the market that patients may look into, which is why we have a side-by-side breakdown of them all here:
In-office teeth whitening can cost between $400 and $800, although in rare cases that may require multiple treatments, the cost could reach up to $1,000.
Take-home professional teeth whitening that comes with custom-fitted trays and is prescribed through a dentist typically costs between $200 and $300.
Over-the-counter whitening trays that you can purchase at your local pharmacy and aren't custom fit are typically $100 or less.
Whitening strips and gels are the least expensive option, ranging between $20 and $40 per box.
Store-Bought vs. Professional Teeth Whitening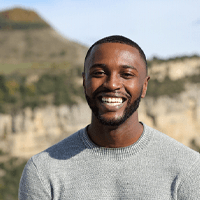 If you're only focused on cost, you may be tempted to just invest in whitening strips and gels that you can buy at the pharmacy, but it's important to remember that when it comes to cosmetic dentistry, quality is reflected in the price.
Although professional teeth whitening is more expensive than over-the-counter products, not only is it safely administered by a professional using ADA-approved products that won't erode the enamel of your teeth, but it also offers fast, virtually guaranteed results. Many patients feel these two benefits are worth the added cost.
Options for Making Teeth Whitening Affordable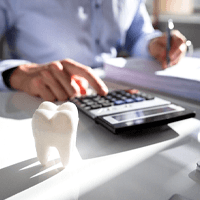 Teeth whitening is a cosmetic treatment, which means that it will likely not be covered by a traditional dental insurance plan. However, our team partners with CareCredit to offer trusted financing for patients. Simply fill out an application and find out if you qualify for a little-to-no interest monthly financing plan!
Teeth Whitening FAQs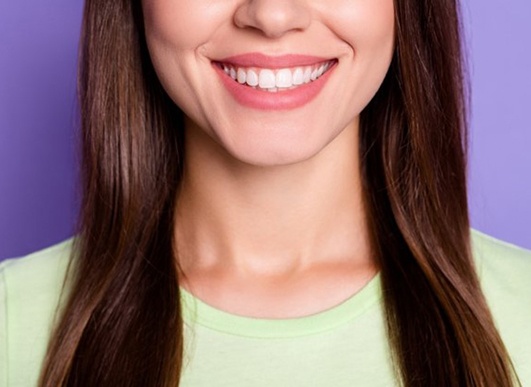 It's natural to have questions about any type of dental treatment—especially if the procedure in question is meant to enhance the beauty and appeal of your smile! That's why our team here at Sunrise Dental Center has taken the time to gather a few of the most frequently asked questions that we receive about teeth whitening in Houston; we want you to feel comfortable about committing to the treatment and achieving a whiter and brighter smile you'll love showing off! If you have any other questions about teeth whitening that aren't listed below, you're welcome to contact us today for answers or to schedule a consultation.
Am I a Good Candidate for Teeth Whitening?
Like other cosmetic dental procedures, teeth whitening is designed to improve the appearance of teeth; however, it can only change things in terms of color. That said, whether you're struggling with minor staining or severely noticeable discoloration, you're likely a good candidate for the treatment! After you've visited us to discuss your desired outcome, we can inspect your mouth, determine the severity of your staining, and recommend an appropriate treatment plan. That said, we still need to make sure that your teeth and gums are fit for whitening, so if there's some type of oral health issue (like decay or gum disease) present, it'll need to be treated beforehand.
Does Teeth Whitening Hurt?
You'll be happy to hear that professional teeth whitening treatment is customized to each patient's specific needs, meaning that the likelihood of experiencing sensitivity or great discomfort is very low! However, if your teeth are extra prone to sensitivity, let us know so that we can determine how to make your treatment as comfortable as possible. Some possible solutions include specialty toothpaste that reduces sensitivity, spacing out your appointments, and avoiding extremely hot or cold beverages.
What's the Difference Between Professional and Store-Bought Teeth Whitening?
Even though professional treatments and store-bought alternatives are both designed to address discoloration, the similarities stop there. Over-the-counter options usually rely on one-size-fits-all trays and diluted brighteners, both of which can cause lackluster results and potential oral health issues. Conversely, professional treatment is tailored to your specific needs and supervised by a trained dentist, meaning that the quality of care, safety throughout the process, and expected results are notably more impressive.
How Can I Make My Teeth Whitening Results Last?
As fantastic and dazzling as the results may be, teeth whitening unfortunately isn't meant to last forever. That said, it can still offer outcomes that last anywhere from a few months to a few years, depending on your commitment to oral hygiene. Here are some simple tips to follow that'll keep your results intact for as long as possible:
Commit to a regular oral hygiene routine by brushing your teeth twice a day using a soft-bristled toothbrush coupled with fluoride toothpaste.
Don't neglect to floss; the habit is just as important as brushing and mitigates issues that will negatively impact your smile's appearance and
Reduce your consumption of foods and drinks that are known to cause staining; things like coffee, tea, soda, red wines and sauces, etc. contain pigments that can easily darken your enamel.
Schedule routine preventive dental visits twice a year; these visits allow us to help you maintain your smile's health and beauty!