Dental Implants – Houston, TX
Turn Back the Clock on Tooth Loss
Every tooth you lose significantly impacts your quality of life. Although it may only seem like a cosmetic concern, missing teeth can also impact your oral health. Sunrise Dental Center has the solution you need to recreate your teeth and turn back the clock on tooth loss. Unlike conventional treatments, dental implants replace both the root and crown of your tooth. This allows you to enjoy the next best thing to your natural teeth with a solution that can last for several decades. Plus, thanks to Dr. Song Ahn's advanced dental implant training, we can handle every step of the process in-house. Give us a call today to get started on rebuilding a beautiful smile with dental implants in Houston, TX!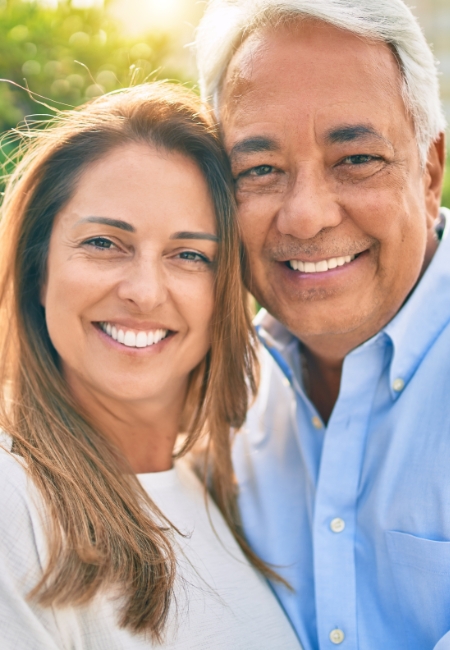 Why Choose Sunrise Dental Center for Dental Implants?
Start-to-Finish Dental Implant Care Under 1 Roof
Board-Certified Dental Implant Specialist
3D Cone Beam Scanner for Safe, Accurate Treatment
What are
Dental Implants?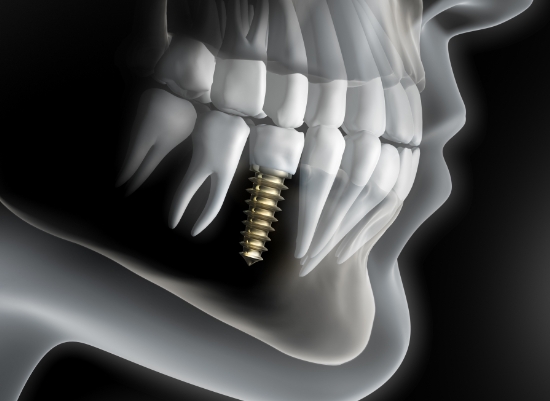 A dental implant is a small titanium cylinder that Dr. Ahn surgically placed beneath the gumline where the roots of a missing tooth once were. Over the next several months, the implant bonds with the surrounding bone and tissue. This process, known as osseointegration, allows the implant to serve as a substitute tooth root. Eventually, our team will place a beautiful, custom-made restoration (crown, bridge, or denture) on top of the implant to replace the visible portion of the missing tooth. In the end, your new teeth will look and feel exactly like your natural ones!
The 4-Step Dental Implant Process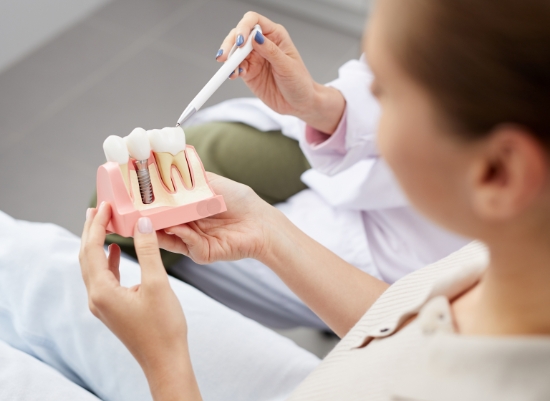 Unlike traditional solutions, dental implants replace the entire tooth structure. This will require a multi-step treatment process. However, as our patients with implants can tell you, it's time well spent! When you're finished, you'll enjoy a solution that can last for a lifetime with the right care. We'll explain each step in your treatment plan, so you feel confident in your decision. For now, here's a basic outline of the four steps in the dental implant process.
Initial Dental Implant Consultation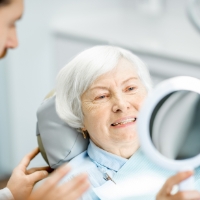 The first step toward rebuilding your smile involves scheduling your consultation with an implant dentist in Houston to see if you're a candidate for this revolutionary treatment. We'll take the time to discuss your oral, medical, and lifestyle history to look for any potential risk factors.
We will also perform a comprehensive examination that will include a CT scan. This allows us to see your oral health in its entirety to look for any issues that may be below the surface. Depending on the results of the examination, you may need additional procedures before getting a dental implant, like tooth extractions, periodontal therapy, a sinus lift, or bone grafting.
Dental Implant Surgery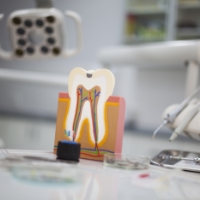 After you've healed from any previous treatments, you'll undergo oral surgery to place a titanium implant post into your jawbone to serve as a new root. Often, a local anesthetic is all that's needed; however, if your treatment is complex or you're having multiple teeth treated, you may need sedation or anesthesia. Your gum tissue is opened to expose your jawbone, and a small hole is formed to insert the post. After the implant post is in position, your gum tissue is sutured closed, and you'll spend the next several weeks healing.
Dental Implant Osseointegration/Abutment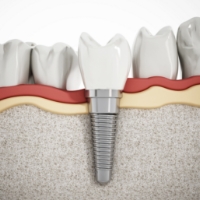 The implant post stimulates new bone growth, so your jaw will fuse to it through a process called osseointegration. This provides a secure foundation for your restoration while also allowing your post to potentially remain in place forever with the right aftercare.
After your jawbone is healed, you'll need a second minor surgery to attach a special connector piece to the post. Your gum tissue is opened to expose the implant and an abutment is placed onto it. Your gum tissue will heal around it over the next couple of weeks.
Delivery of Dental Implant Restorations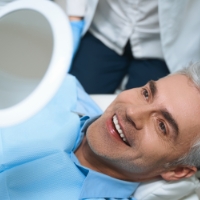 The final step in your treatment process involves attaching your restoration to your post. Your restoration is carefully crafted in the dental lab to mimic your natural teeth. It's made from all-ceramic material to blend in when you smile. Rest assured, it will be strong and durable to last for several years. You'll enjoy unmatched stability when compared to any other treatment.
Benefits of Dental Implants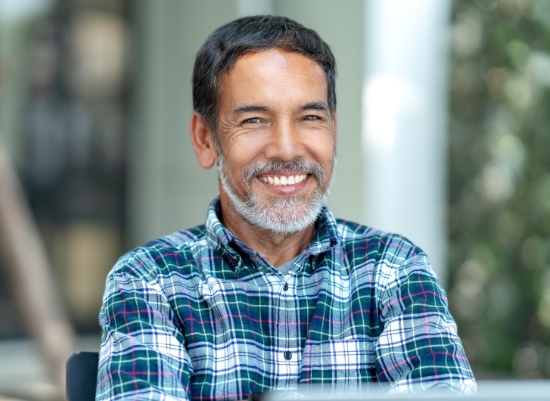 Tooth loss can affect more than just your appearance – it can have an impact on your overall quality of life as well. If you're ready to say goodbye to the gaps in your smile, you may be thinking about getting dental implants in Houston. When we're talking about tooth replacement with dental implants, we're talking about replacing the entire tooth, not just the visible crown. For that reason, implants provide a wide range of incredible benefits that you can't get with traditional methods like dentures and dental bridges. If you'd like to find out how they can lead to a fuller, healthier life, continue reading or give our office a call!
Day-to-Day Benefits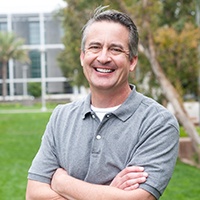 Some denture wearers believe that their prosthetic limits their ability to go about their life with ease. If that sounds like your experience, you may want to consider upgrading to dental implants. The modern tooth loss solution provides many day-to-day benefits, including:
Ability to eat most foods. Dental implants replace the entire structure of a missing tooth, from the root up to the visible surface. Once fully healed, they can withstand the chewing of virtually any food!
Speak clearly and confidently. Dentures are known to slip and slide around in the mouth, especially if they're ill-fitting. Well, implants fuse with the jawbone via a process called osseointegration. Since you don't have to worry about them moving out of place, you can speak more easily with your new smile!
Lower maintenance. With implants, you don't have to incorporate complex steps into your oral hygiene routine or purchase special cleaning products. Maintaining them is as easy as caring for natural teeth!
Health Benefits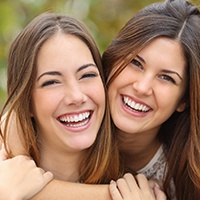 Even though dental implants can enhance your appearance, they offer some incredible health advantages as well, such as:
Jawbone preservation. Since dental implants are surgically inserted into the jawbone, they provide it with internal support. As a result, it helps prevent the bone loss that's common after tooth loss. It'll also help maintain the face's overall shape for years to come.
Protection for natural teeth. It's common for teeth to shift after tooth loss. Fortunately, implants serve as a placeholder to ensure every tooth stays exactly where it belongs.
Improved overall health. Studies show a correlation between tooth loss and an increased risk of multiple health conditions. Because implants are so similar to natural teeth, it's safe to assume that they can help lower such risks.
Long-Term Benefits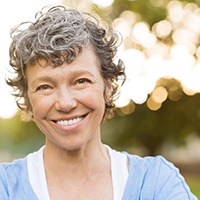 Dental implants are capable of helping you right now and in the long-term with the following advantages:
High success rate. Implants have an impressive success rate of about 95 percent even 20 years after they've been placed.
Youthful appearance. Since implant posts stimulate blood flow in the jawbone, they prevent the sunken, aged look that often accompanies tooth loss.
Long lifespan. Unlike dentures and dental bridges, dental implants can last decades without needing a replacement.
Who Dental Implants
Can Help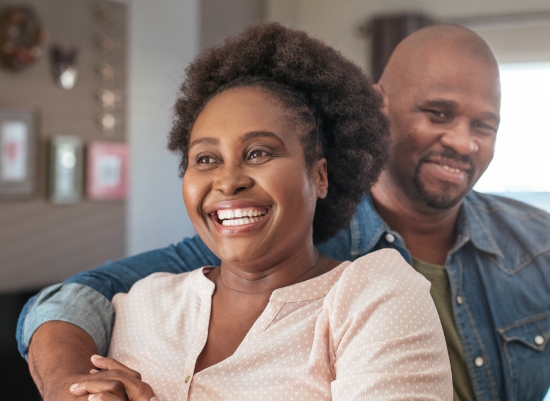 Dental implants are a permanent solution for tooth loss, regardless of how many teeth are missing. Fortunately, most adults are eligible to receive these permanent prosthetics; however, a consultation with your dental implant dentist in Houston is necessary to determine if you can immediately receive dental implant surgery or if you require preliminary treatment. Do not worry if you'll be required to undergo bone grafting, periodontal therapy, or tooth extraction, as these are normal for most patients. There are many types of implant procedures to consider depending on your unique case. Check them out below!
Who is a Good Candidate for Dental Implants?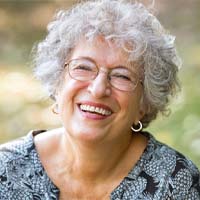 Dental implant placement is a superior form of tooth replacement, and believe it or not, more than 5 million are placed each year! This means millions of people are enjoying the unique benefits only these prosthetics can provide! When meeting with your dentist to discuss your eligibility, you, too, can prepare for an exciting adventure with dental implants. There are just three factors that will determine how you will move forward with treatment:
Your oral health and whether you show signs of gum disease or severe tooth decay. If so, we'll need to administer periodontal therapy and/or extract one or more teeth.
Your overall health and if you're healthy enough to undergo minor oral surgery and do not possess any autoimmune disorders or other serious conditions that might cause your implants to fail.
Your jawbone density and if there is enough to adequately support your implant posts and customized restoration. If not, you'll need a bone graft or sinus lift before having your titanium posts put into place.
Missing One Tooth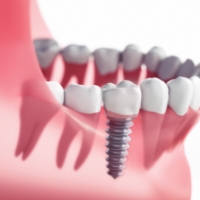 More than 120 million Americans are living with one missing tooth. As a result, speaking, eating, and even smiling can become more difficult without proper treatment. Fortunately, with a single dental implant, we can restore your smile to its former beauty and function. When replacing one tooth, dentists pair a single implant with a personalized dental crown that rests on top. An abutment connects the two pieces, forming your complete prosthetic tooth and root.
Missing Multiple Teeth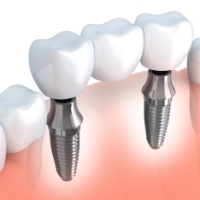 If you're missing multiple teeth in a row, your dentist can combine dental implants with bridges. Instead of relying on healthy neighboring teeth to anchor the restoration, the two crowns on either side of the teeth in between them are fitted with dental implants in Houston. This way, you don't have to have four implants just to replace four missing teeth. Also, if you have missing teeth that are not consecutive, we can create an implant partial that works just like a puzzle piece, similar to a traditional partial without the metal clasps or clips.
Missing All Teeth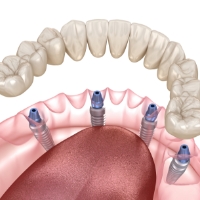 Finally, patients who are missing all of their teeth can benefit from implant dentures. These use anywhere from four to six implants to replace an entire arch simultaneously. Implant dentures allow for a more stable and reliable prosthetic, providing greater functionality and more beautiful aesthetics.
Alternately, if you lack enough jawbone density, there is another solution that can make it possible for you to still enjoy the same great benefits of dental implants – All-On-4. With only four dental implants, we can strategically place them in your jawbone and immediately place your new teeth. The weakened areas of your jawbone will not prevent you from enjoying the incredible superiority of a permanent and fully reliable smile.
Understanding the Cost
of Dental Implants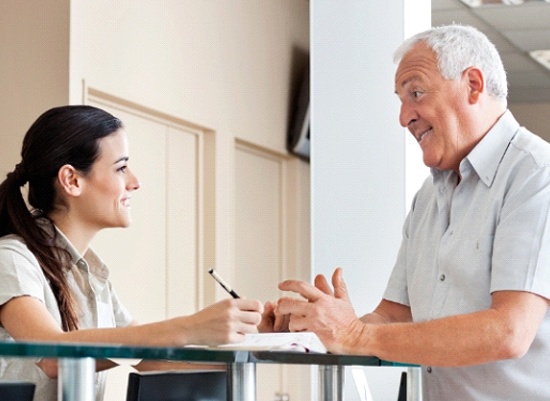 Dental implants are a wonderful option for many patients who are missing one, two, or an entire arch of teeth. They do come at a higher price than other methods of replacement, though – and the precise cost of dental implants in Houston will vary based on a few factors, including how healthy your jaw is, where in the mouth the missing teeth are located, and how many teeth need to be replaced. There are, however, several options for making dental implants fit comfortably within the budget. Keep reading to learn more about the cost of dental implants, because we've got the facts you need to know!
Preliminary Treatments & Dental Implant Surgery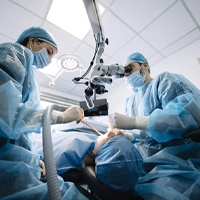 Another consideration is how healthy your jawbone is before the dental implants are placed. Implant posts require plenty of supportive bone structure for proper anchoring. Otherwise, the posts will not fuse with the bone to provide a sturdy foundation for the replacement teeth. For patients with insufficient jawbone structure, a bone graft may need to be performed. This procedure adds healthy bone tissue to the area where it is lacking. It also increases the cost of your treatment, which will be factored in.
When figuring your dental implant cost, your implant dentist in Houston will also consider the actual implant surgery. Because the placement and restorative process are both completed in-house, under the same roof, this will eliminate the need for you to pay a separate fee to an outside specialist.
The Parts of Your Dental Implant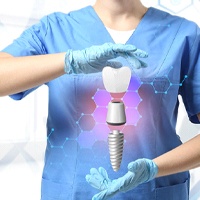 Other important components your dentist will use to formulate the cost estimate for your dental implants in Houston include:
How many implants you will need – Whether it is one, two, four, or six, the higher the number, the greater the cost.
The materials used – Dental implants are commonly made from titanium or zirconia, each with its own price tag.
The type of restoration – Similar to the number of implants you will need, your restoration will also be a contributing factor. A dental crown is less expensive to create than a full denture.
The brand – There are multiple brands of dental implants available on the market, but we choose which ones we use. During your initial consultation, we will go over the reason for our decision and why better-quality materials are worth the investment as opposed to cheaper, less reliable options.
How Dental Implants Can Save You Money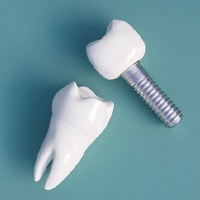 You may not realize this but in the long run, dental implants will actually save you lots of money. Yes, they are costlier up front, but their longevity, minimal upkeep, and permanence make them a cost-effective solution when you compare them to traditional dentures or dental bridges.
Not only will you not need to buy denture adhesives and special cleaning supplies, but you won't be required to seek an adjustment or replacement every few years. You can also expect to save when it comes to your overall health. How? Because many systemic issues stem from tooth loss. By replacing your missing teeth with dental implants, you can minimize your risk for diabetes, heart disease, and osteoporosis, which, in turn, will help you save money on treatment you do not need.
Does My Dental Insurance Cover Dental Implants?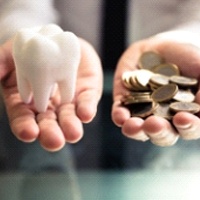 While you are planning for the cost of dental implants, know that you will not have to pay for them all at once. Dental insurance may not be that much help, though. Despite the fact that dental implants are well-known for being the best option available in tooth replacement, they are still usually not covered by most dental insurance plans. However, you may be eligible to receive coverage for certain aspects of your treatment, including your initial consultation, preliminary treatments, and/or customized restoration.
Making Dental Implants Affordable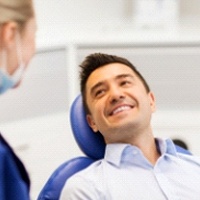 There are options with third-party financing like CareCredit, which works like a credit card you use for any medical or dental expenses you have – including dental implants. Please don't hesitate to get in touch with your dentist if you are considering dental implants and wondering how you can make them fit within your budget.
Dental Implant Post-Op Instructions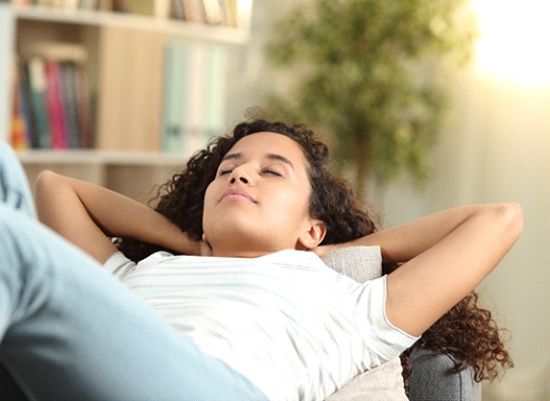 We're able to complete the entire dental implant process from start to finish in our office. You will be given specific post-op instructions after your procedure to help you remain comfortable and heal quickly. Continue reading to learn more about what you can expect from the healing process and when you should give us a call.
What to Do Directly After Dental Implant Surgery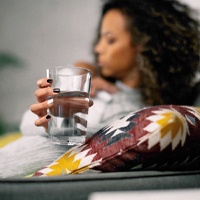 You may not be excited about the dental implant surgery itself, but when you take all of the right steps, you can make the healing process go much more quickly and smoothly. Be sure that you are in accordance with the following:
Instead of spitting, use tissues or swallow excess saliva
Don't use a straw when drinking
Avoid tobacco products immediately following your surgery
Keep your fingers and tongue away from the surgical site
Common Side-Effects When Recovering from Dental Implant Placement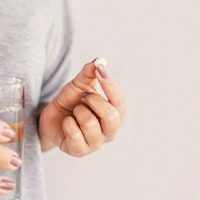 It is normal to experience some side effects for the first few days after you get your surgery, but they are usually pretty mild. Here are some common ones that you could experience:
Bleeding: Intermittent bleeding, which can be lessened with gauze and light pressure, can last for multiple days.
Swelling: Inflammation is common for the first 72 hours, and it can sometimes last over a week. Cold compresses can also help to reduce this.
Soreness: The area may be sore for a few days, but this can be managed by taking pain medication as directed.
All of these effects should be temporary and gradually subside as time goes by. If any persist, let us know so we can help.
Your Diet After Dental Implant Surgery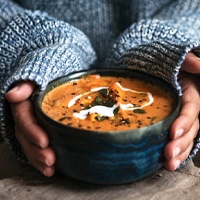 You should be mindful of your diet for several days following your procedure. Here are some foods that you may want to stock up on:
Scrambled eggs
Mashed potatoes
Pasta
Soup
Pudding
Yogurt
Ice cream
As soon as your discomfort subsides, you can switch back to your normal diet. However, it's still a good idea to avoid chewing directly on the surgical site.
Post-Op Health & Oral Hygiene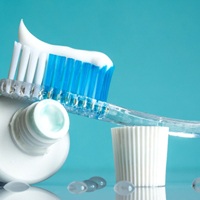 It's crucial that you keep your mouth clean after surgery. This way, the implants will have a better chance of integrating with your jawbone successfully. Here are some tips that can help.
Brush your teeth the day after your surgery, but be especially careful around the surgical site.
Rinse your mouth two to three times a day with saltwater.
Avoid using mouthwashes that contain high levels of alcohol.
What to Do After Your New Teeth Are Attached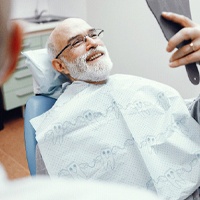 Once your smile is healed up and the implants have fused with your jawbone, the hard part is complete. When your dental crown, bridge, or denture is attached to the implant(s), you may experience mild sensitivity, but this is easy to control with over-the-counter pain relievers, and it is temporary. There shouldn't be any pleading, swelling, or extensive recovery.
Dental Implant Technology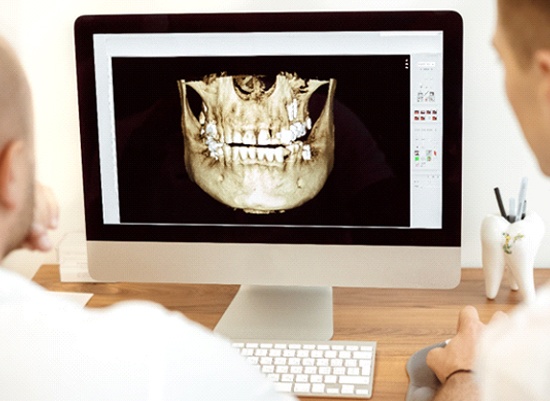 Dental implants have the ability to look, feel, and function just like natural teeth for a lifetime thanks to their unique construction. To ensure your chances of a successful long-term dental implant placement are maximized, we've outfitted our practice with the latest dental technology. Our state-of-the-art dental implant equipment will help make your journey towards a newly completed smile as smooth and comfortable as possible, and provide reliable results you can count on for decades. To learn more about our dental implant technology, keep reading.
3D Cone Beam Imaging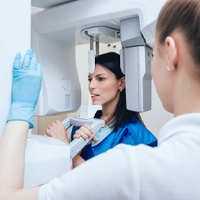 Precision and detail are key when it comes to finding exactly the right place for your new replacement teeth. That's why we use the 3D cone beam scanner! This advanced piece of dental technology can create detailed, 3D images of your mouth, including important features like jawbone density, nerve pathways, blood vessels, and others that can't be captured via digital dental X-ray. Thanks to this detailed information, we can plan out your dental implant surgery ahead of time and avoid any potential complications or surprises.
X-Mark Technology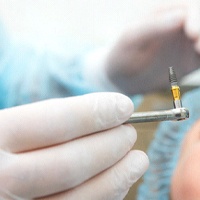 Precision is key for dental implant placement. While many specialists use a freehand approach, we prefer to use advanced X-Mark technology to insert dental implants exactly where they belong. The X-Mark system uses sophisticated algorithms to pinpoint the precise places and angles in the jawbone where your dental implants should be placed, and marks them on the images created by the 3D cone beam scanner. On the day of your implant placement surgery, we'll mark those same locations in your mouth so we'll know precisely where to insert your dental implants. This technology can be used for any type of dental implant treatment, and it lowers your risk of complications while speeding up recovery time.
Guided Dental Implant Surgery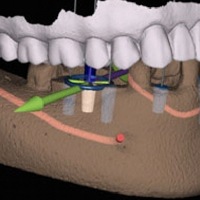 On the day of your dental implant placement surgery, we'll use our computer-generated, dynamic guide to ensure everything goes according to plan. Throughout the surgical process, your implant dentist will be able to monitor the detailed plan created by the 3D cone beam scanner on a nearby screen. This unique technology will update throughout the treatment, giving real-time feedback for optimal placement.
Penguin RFA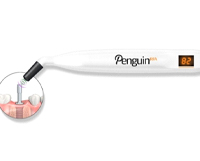 Once your dental implant is in place, it will take several months for the surrounding jawbone tissue to integrate with it. It's essential that this step, known as osseointegration, is complete before we move on to placing your replacement teeth. Securing your custom-made restoration too soon would cause instability and potentially damage your jawbone! Fortunately, the Penguin RFA takes the guessing out of this part of dental implant treatment. This little handheld device uses radio frequency analysis and vibrations to measure the stability of the dental implant and the tissue that surrounds it to determine if it's ready to support your new replacement teeth.
Digital Impression System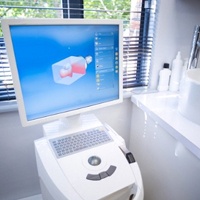 The last step of your dental implant surgery is to have your custom-made crown, bridge, partial, or full denture anchored into place. Our restorations are precisely crafted to look just like natural teeth for absolutely seamless results. To ensure that it fits perfectly in the space provided and has a lifelike appearance, we need to take impressions. Fortunately, sticky and uncomfortable putty impressions are a thing of the past thanks to our digital impression system! We'll take a quick scan of your mouth to create a digital blueprint of your mouth, then we'll use that information to fabricate a perfectly-fitted restoration that blends in seamlessly with the rest of your smile.
Dental Implant Failure & Salvage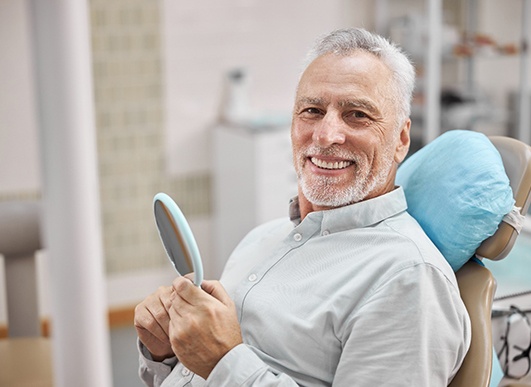 Although very few patients experience a failed dental implant in Houston, it is still a possibility, and one that must be addressed right away. Our Sunrise Dental team is well-equipped to deal with these situations with dental implant salvage. The sooner you let us know about any unusual discomfort near your implants, the more likely we'll be able to save your new smile.
Learn More About Dental Implant Failure & Salvage
Dental Implant Frequently Asked Questions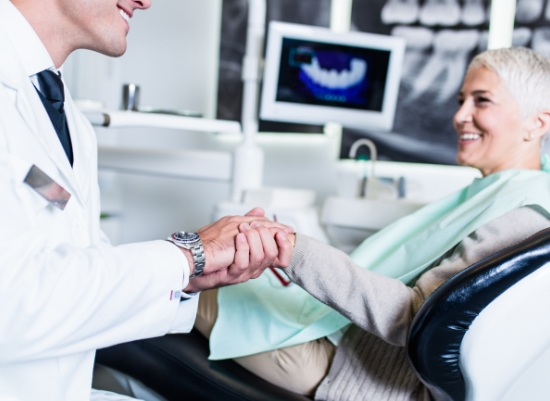 Dental implants in Heights offer a wonderful replacement for one, two, or many missing teeth – but you may have some questions about just how they work. We've put together the following FAQ to help!
What is a dental implant?
A dental implant is a substitute for a missing tooth's root. It is a tiny titanium post that is surgically implanted beneath the gumline. A connecting abutment is used to attach a crown, bridge, or denture to the dental implant.
What are dental implants made out of?
Dental implants are made out of biocompatible titanium, a material that promotes bone growth in the jaw to fully integrate with your mouth.
How long does it take for dental implants to heal?
After it is placed, it takes anywhere from six months to one year to complete the treatment for a dental implant. During this months-long recovery period, osseointegration occurs -- the process through which the bone tissue grows around the dental implant(s) to provide a sturdy base for the prosthetic tooth or teeth.
What are the benefits to dental implants vs. traditional bridges?
Traditional bridges are anchored in the jaw using the two teeth surrounding the gap as anchors. These healthy teeth must be altered to support dental crowns that hold the bridge in place.
Dental implants, by comparison, do not affect any remaining natural teeth. And because they stimulate bone growth and fully integrate with the jawbone, implants promote better oral and overall health by helping you to eat, chew, and speak without any difficulty.
Are there any disadvantages to dental implants?
For healthy, younger patients, dental implants in Houston are far and away the best choice to be made in tooth replacement. One potential consideration is cost -- dental implants cost considerably more than a bridge or traditional denture, but they also last a lifetime with proper maintenance.
How are dental implants placed?
Dental implants are placed surgically into the area where the missing tooth's root was. You will not need to have a single implant for each missing tooth to support a bridge or denture -- fewer implants are used to retain a larger prosthetic.
First, a small incision is created, and the bone is exposed. Your dentist may use a surgical guide to ensure the proper placement of each dental implant. Then, space is created for the implant, and it is placed at a low speed using a special machine.
Does it hurt to get dental implants?
Dental implants in Greater Heights are placed under local or general anesthesia, depending on how many implants are being placed and the complexity of the case. Anesthesia can be combined with sedation as desired for extra relaxation. You shouldn't feel a thing throughout the procedure!
How much do dental implants cost?
The cost of dental implants depends on several factors, including where in the jaw they will be placed and whether or not you need to have a bone graft or sinus lift first.
Does dental insurance cover dental implants?
Despite being the best choice for oral and overall health, many dental insurance plans still do not cover dental implants. We can perform a verification of benefits to determine whether or not your insurance will pay for a portion of the cost.
Maintaining & Caring for Your Dental Implants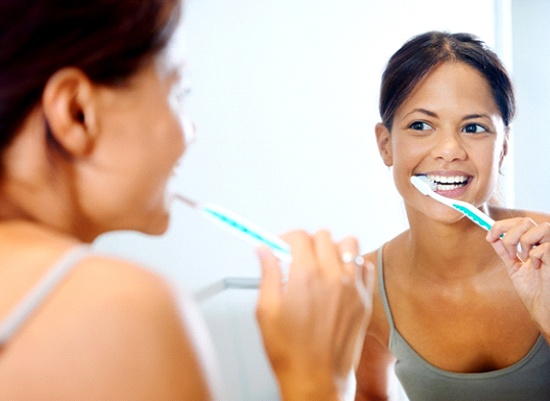 One of the most amazing things about dental implants is their remarkable ability to last for three or more decades. They could even provide you with a lifetime of beautiful smiles – but only if you take good care of them. Fortunately, dental implant maintenance is not all that different from caring for your original teeth. Here are some basic tips for making your dental implants in Houston last.
Make Oral Hygiene a Priority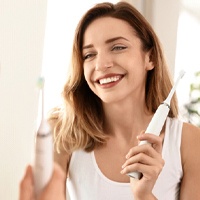 Without diligent dental hygiene, bacteria could build up in the areas around your dental implants and create infections that may ultimately lead to implant failure. To keep your mouth clean and prevent infection, be sure to do the following:
Brush both your natural teeth and your implant-supported teeth twice a day.
Floss daily. If you have an implant bridge, you might want to invest in a floss threader to help you clean the area between your gums and your restoration.
Rinse with an antibacterial mouthwash every day to kill bacteria that your toothbrush and floss might not have been able to reach.
Eat a Healthy Diet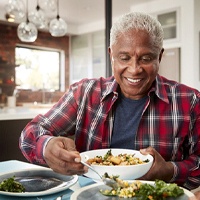 The foods you eat can have an impact on your oral health just as much as your oral care routine. Whether you have dental implants or not, maintaining a balanced diet is essential to protecting your smile. On top of getting enough fruits, vegetables, proteins, and dairy products on a regular basis, you should also drink plenty of water throughout the day. By staying hydrated, you're more likely to produce enough saliva to rinse away food debris that could otherwise stick to your teeth or implants and attract harmful bacteria.
Break Bad Habits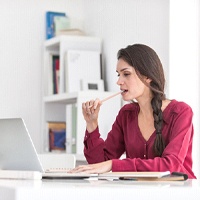 Dental implants are durable and long-lasting, but they aren't indestructible. That means they can still get damaged and fail if they are used improperly. For example, you should avoid using your teeth as a tool and make sure to keep the right tools nearby when performing certain tasks (i.e. scissors, box cutter for opening packages and nail clippers for trimming nails). If you find yourself chewing on pens, pencils, or other inedible objects, find a habit to replace it that doesn't harm your teeth.
Protect Your Dental Implants from Physical Trauma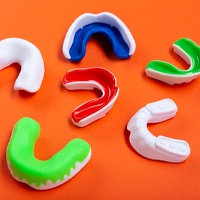 An injury to your mouth could damage the tissues around your dental implants. It could even cause your implant to come loose. To reduce your risk of these problems occurring, keep the following points in mind:
If you struggle with bruxism (chronic teeth grinding), wear a nightguard. The frequent pressure of clenching and grinding can greatly strain your restorations and implants.
Wear a mouthguard. Even if you don't play a "contact" sport, you should still wear a custom-fit mouthguard to protect your teeth, jaw, and gums from trauma.
Be aware of your surroundings. A slip and fall could spell disaster for your implants. Walking carefully can go a long way toward ensuring your new smile lasts.
Schedule Regular Dental Checkups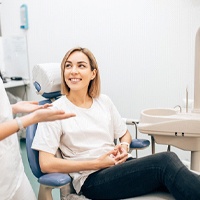 Whether you've only had one tooth replaced or a whole mouthful, routine appointments with your dentist are crucial. We can not only clean and examine your remaining teeth, but we can also make sure your dental implants are still in good shape. If we notice any signs of infection or damage, we'll be able to address them before they become serious.