Dental Checkups & Teeth Cleanings – Houston, TX
The Key to a Smile That's Healthy for a Lifetime
Attending regular appointments with a dental team you know and trust is one of the most important ways to preserve the health and vitality of your smile. Even patients who are stringent with their oral health care routine at home can fall victim to accidents, missed areas of decay, or chronic pain caused by an unavoidable source. In all of these cases, our dentists can locate the source of the problem right away, helping you to understand your oral health and develop a plan of treatment. Cleanings can keep your smile free of dangerous bacteria as well. If you'd like to schedule an appointment for dental checkups and teeth cleanings in Houston, TX at Sunrise Dental Center, don't hesitate!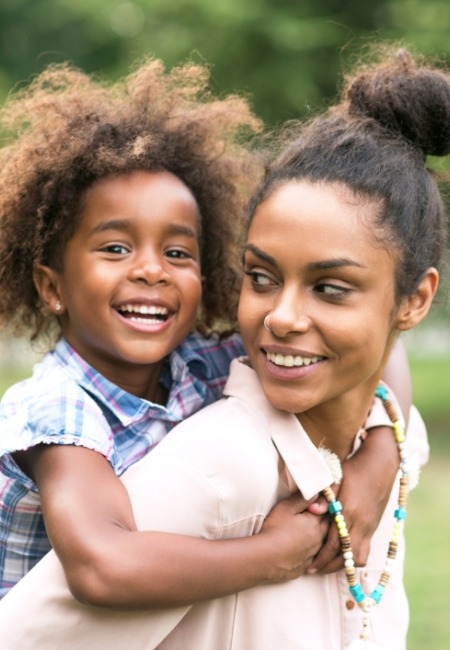 Why Choose Sunrise Dental Center for Dental Checkups & Teeth Cleanings?
Personalized, Comfortable Dental Care
Bilingual Staff
That Speaks
Spanish
In the Community Since 1986
Dental Checkups &
Teeth Cleanings Frequency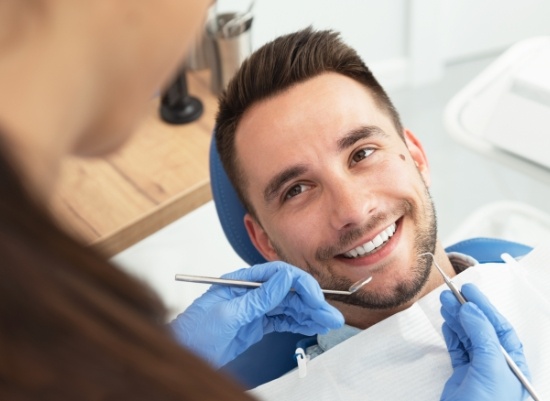 For patients with generally good oral health, a visit every six months (or two each year) should be sufficient. If you suffer from periodontal disease, an oversensitivity to decay, or another concerning problem, our doctors may recommend more frequent appointments.
Thorough Dental Evaluations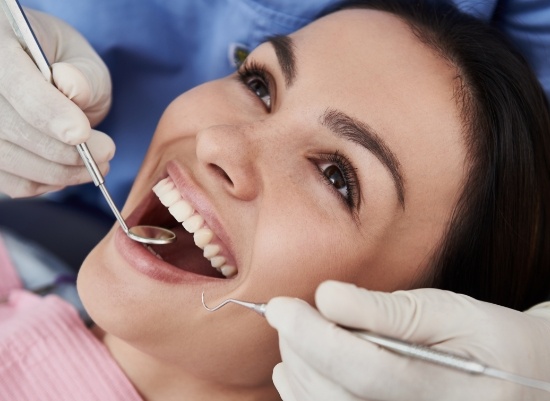 Before prescribing any treatment, our doctors need to know all about your unique needs. We can accomplish this by carefully inspecting your teeth, gums, bite, and more with both a visual examination and digital X-rays. Periodontal charting and an oral cancer screening will also be provided. Once we have a complete picture in front of us, our team can work with you to develop a personalized plan of action for your care.
Refreshing Dental Hygiene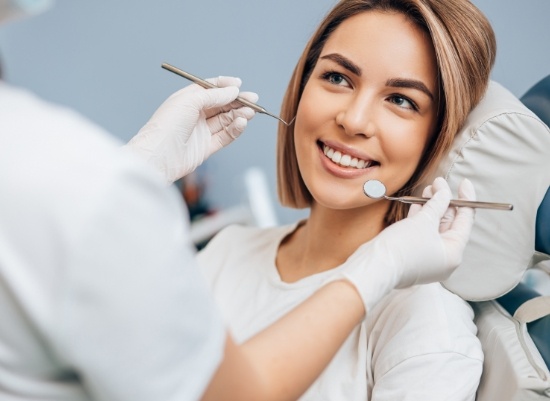 Plaque is a constant problem for patients of all ages, forming over enamel and threatening to create hard deposits of dangerous bacteria if they aren't removed fast enough. Thankfully, a thorough cleaning with one of our dedicated team members here in Houston can get rid of these areas and leave your smile feeling fully polished. At Sunrise Dental Center, we believe strongly in providing patients with comfortable, exceptional care that doesn't have to come with an exceptional price tag. Patients in Oak Forest, Woodland Heights, Greater Heights, and beyond are welcomed to contact us today to schedule a first appointment!