Invisalign® – Houston, TX
Discreet & Customized Orthodontic Treatment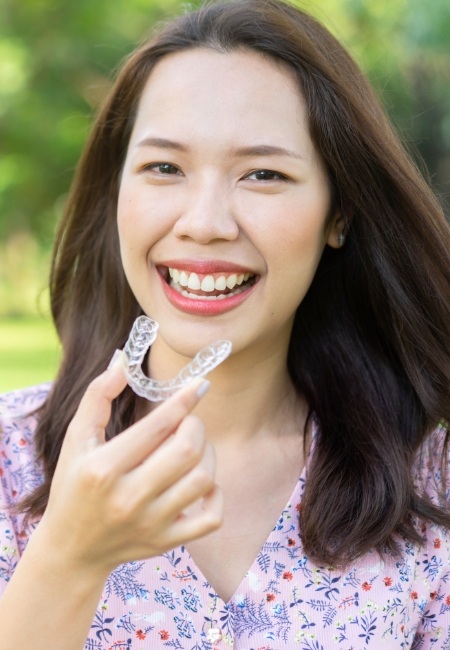 For patients with purely cosmetic goals for their smile, the thought of having to wear noticeable metal braces for years on end can just be too much of a hurdle to overcome. Thankfully, a sleeker and more sophisticated option is available – Invisalign. Instead of using silver-colored wires and brackets, this advanced treatment relies entirely on clear, personalized aligners that are comfortable and virtually unnoticeable so that you can still smile with confidence. If you're interested in undergoing orthodontic treatment with Invisalign in Houston, TX, don't wait!
Why Choose Sunrise Dental Center for Invisalign®?
Experienced Team of 3 Dentists
Additional Financing Available
We See Patients
of All Ages
Good Candidates
for Invisalign®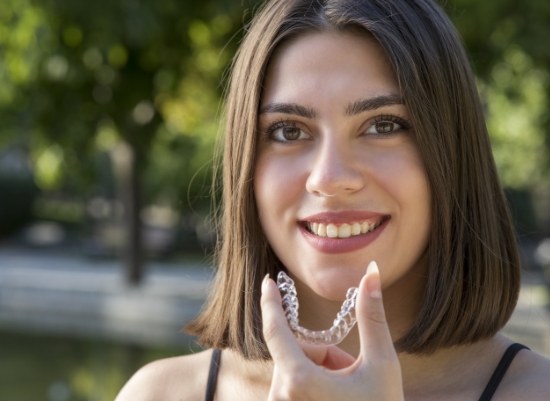 Invisalign is usually the best orthodontic choice available for patients with mild to moderate alignment or spacing issues. This treatment is only for teenagers and adults, and it won't be fully effective for those with severe bite or jaw concerns that need correction.
The Invisalign® Process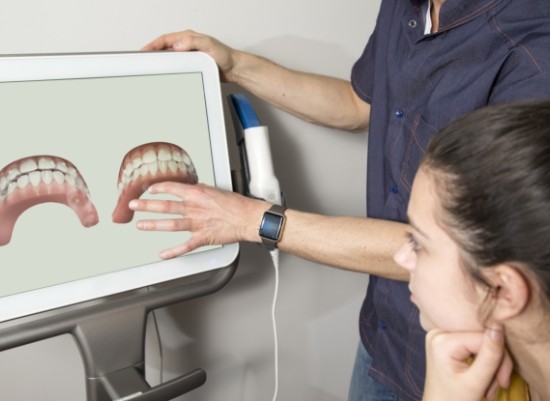 Once we've determined that you're a viable candidate for Invisalign and have captured detailed impressions of your smile, the Invisalign lab will send back a set of clear, customized plastic aligners, each one designed to represent a different stage of your smile as the teeth move towards their ideal positioning. Patients only need to wear each aligner for the determined time before switching to the next in the set; you will also attend brief checkups with one of our doctors every four-six weeks so that we can make sure you're progressing smoothly.
The Benefits of Invisalign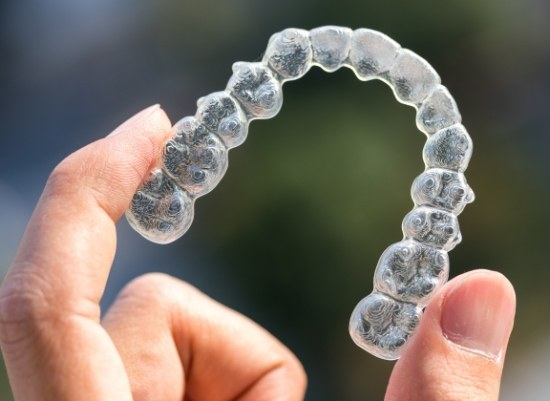 With Invisalign, patients can enjoy a much more comfortable and pleasant orthodontic experience. The aligners are removable, which means that you won't have to make any frustrating changes to your diet or oral hygiene routine. It's perfectly fine to remove them for an hour or so for a big event where you want to look truly flawless. Best of all, treatment is usually finished in just 8-18 months. Contact Sunrise Dental Center today if you have any further questions, or if you're ready to schedule your first appointment!
Understanding the Cost of Invisalign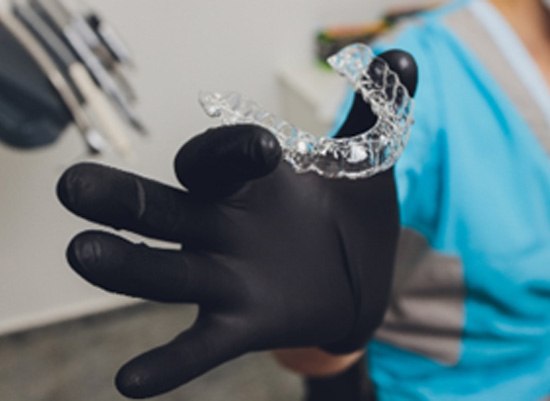 From the process to the benefits, we've covered a lot of information about Invisalign. Now, it's time to discuss the cost! Of course, the best way to get an estimate of the price is to schedule an appointment with our team. That way, we can learn about your unique dental needs and create a personalized treatment plan. However, if you'd simply like to learn a bit more about the factors that influence the cost of Invisalign, then keep reading.
Factors That Affect the Cost of Invisalign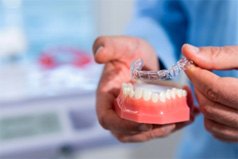 While Invisalign has helped more than 12 million people achieve their smile goals, it's by no means a one-size-fits-all treatment. Before providing you with a price estimate, we'll need to consider a few different factors, including:
Whether you want to straighten one or both arches of teeth
The severity of your misalignment
How many trays you'll need
If additional accessories, like rubber bands, are required
While we do our best to prevent surprises for our patients, it is possible for there to be additional costs stemming from not following the treatment guidelines. For example, if you don't wear your aligners for 22 hours a day and fall off-track with your original plan, you may need re-treatment (which may require more time and money).
Invisalign vs. Smile Direct Club™: Which Costs More?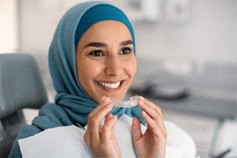 Upfront, mail-order clear aligner brands like Smile Direct Club™ do cost less. However, Invisalign continues to be the best choice for your smile and your wallet. There are a few reasons for this. To begin, Invisalign includes an in-depth assessment of your oral health, ensuring no decay or infection is present before starting treatment. Furthermore, the follow-up visits are in-person with a licensed dental professional, which is essential in keeping your treatment on-track. Lastly, and perhaps most importantly, you'll never have to worry about where to turn with a question, dental emergency, or any other things that come up during your teeth-straightening journey.
Does Dental Insurance Cover Invisalign?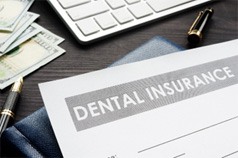 If you have dental insurance, you'll be happy to know that many plans include a once-in-a-lifetime benefit for orthodontic treatment. So, it's worth reviewing the fine print on yours before assuming that you will have to pay for the entire treatment out-of-pocket. Our team at Sunrise Dental is also here to help – we're in-network with several popular providers, including Delta Dental.
Options for Making Invisalign Affordable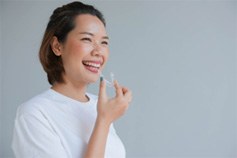 Don't have dental insurance? Then you'll be happy to hear that we offer another financial solution that will help make your Invisalign treatment more affordable: CareCredit. A trusted third-party financier, CareCredit allows you to choose a payment plan that works best with your budget. There are also low-to-no interest options for qualified patients, making your treatment even more affordable.
Invisalign Frequently Asked Questions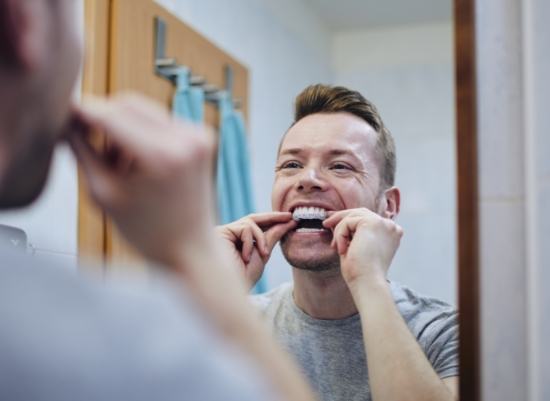 Every year, more and more teens and adults choose to straighten their teeth with Invisalign in Heights instead of traditional braces. With the massive rise in the number of people seeking this treatment, there has also been an increase in the number of questions people have about it. Because of this, we have decided to answer a few of these frequently asked questions down below.
What can I expect after my Invisalign treatment is over?
Just because you're finished wearing the aligners doesn't necessarily mean you're finished with orthodontic treatment. It can take a long time for your teeth to get used to their new positions. In the beginning, they may resist the change exerted on them by the aligners and attempt to revert back to their old alignment. That's why in most cases, we'll give you a retainer to wear after you're done with the aligners.
Depending on your unique case, we may recommend you wear the retainer 24/7 for a few weeks or months, just like you wore the aligners. After a certain amount of time has passed, though, you might be able to switch to only wearing it at night.
How much does Invisalign cost?
Because each Invisalign treatment is designed according to your unique mouth, there is no set cost. This question is impossible to answer without scheduling a consultation with your cosmetic dentist in Heights. Some factors that can influence the cost of Invisalign include the degree to which your teeth are misaligned, your dedication to wearing your aligners as often as you should, and your age (orthodontic treatment generally takes longer for adults than it does for teens).
Does Invisalign hurt?
Invisalign works by exerting a gentle force on your teeth to gradually shift them into their desired position. The good news is that if your aligners feel slightly uncomfortable at first, it's actually a sign that they're working!
For the first week or so of your treatment, your teeth will likely be sore or sensitive. However, this first week is the worst part, so once you get past that, the rest of your treatment should be smooth sailing. To minimize your discomfort, it may help to begin wearing your aligners right before bed. That way, you can sleep through a majority of the adjustment process. You could also take over-the-counter pain medication as needed.
Will my aligners affect the way I talk?
Initially, it may sound like you have a bit of a lisp. This is because many of the sounds you make are created by placing your tongue against the space where the back of your front teeth meets the roof of your mouth. Since the aligner now occupies that space, your tongue might get confused. Don't worry; your mouth should get used to it within a few days. You can help speed this process along by practicing saying words with lots of "s" sounds, like counting from sixty to seventy over and over again.