Porcelain Veneers – Houston, TX
Bringing Back Your Dazzling Smile
When there are several cosmetic flaws that catch your eye when you look in the mirror, veneers can be an excellent way to redesign and reshape your entire mouth. Whether your teeth are cracked, severely stained, or misaligned, veneers can mask the issue and make it easier for you to give the world a brilliant smile. In just two or three visits, Dr. Ahn, Dr. Chancellor, and Dr. Lee can greatly improve the appearance of your teeth. Contact Sunrise Dental Center today to schedule a consultation to discuss a smile transformation with porcelain veneers in Houston, TX.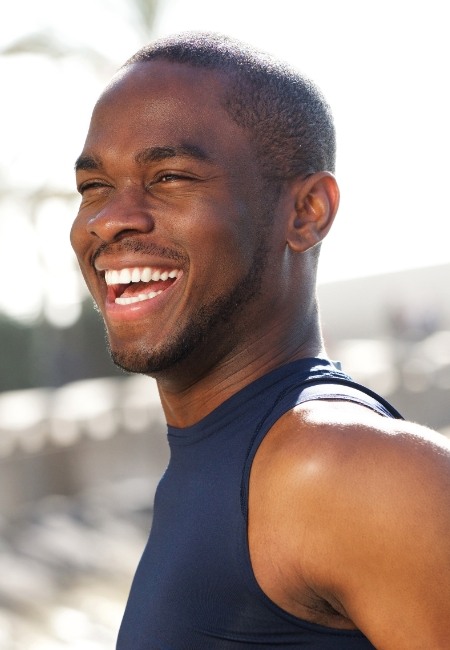 Why Choose Sunrise Dental Center for Porcelain Veneers?
Custom-Tailored Cosmetic Treatments
Stain-Resistant Dental Porcelain
Additional Financing Available
The Procedure for Porcelain Veneers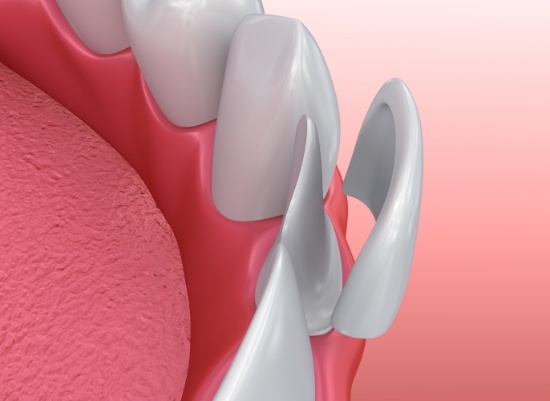 During your first visit, we'll prepare your teeth by removing small amounts of dental structure; this leaves plenty of room for the veneers to be placed while still looking natural. We can then take impressions of your teeth so that our laboratory can create a high-quality product for you. This normally takes 10 to 14 days, so we'll provide you with beautiful temporary veneers to wear in the meantime. At your next appointment, we'll adjust your veneers as needed before permanently bonding them to the front of your teeth.
Benefits of Porcelain Veneers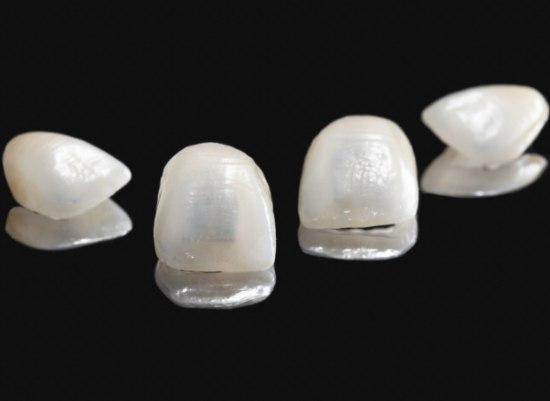 When considering the different kinds of cosmetic treatments available, bear in mind that porcelain veneers come with several advantages. For example:
They're Versatile: With veneers, we can cover severe permanent stains that don't respond to whitening, chipped or broken teeth, crooked or irregularly shaped teeth, small gaps and uneven spaces, and badly worn-down teeth.
They're Durable: Veneers are surprisingly strong despite being so thin, and they very rarely break.
They're Stain-Resistant: Your teeth are porous, meaning they can become stained somewhat easily. Veneers, on the other hand, are far less likely to become discolored.
They're Minimally Invasive: Veneers are very thin and only cover the front of the tooth, so they require the removal of less enamel compared to traditional dental crowns.
They Look Natural: Porcelain can easily be tinted so that it matches the color of your other teeth. Most people can't tell the difference between a regular tooth and one that has a veneer attached to it just by looking.
They're Easy to Care For: You don't need to make any significant changes to your oral health routine to take care of your veneers; just brush and floss like you normally would, and don't forget to visit Sunrise Dental Center at least twice a year for a checkup.
They Last a Long Time: On average, you can expect porcelain veneers to last about 15 years.
Understanding the Cost of Veneers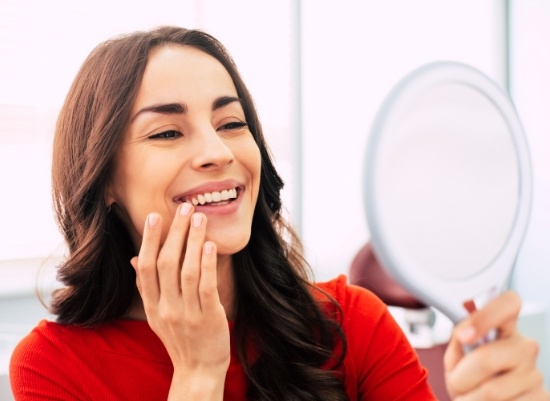 Before transforming your smile with veneers, you likely want to know how much it'll cost. Rest assured – our cosmetic dentists are prepared to help you figure out the overall price of veneers so that you can plan your budget accordingly. Ultimately, the cost depends on factors like how many veneers you need; do you only want to cover a single tooth, or are you looking to enhance an entire arch? We'll take your unique goals into account before creating a treatment plan just for you.
Cost vs. Cosmetic Dentistry: What's Right for Me?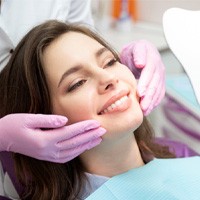 Although you may have your heart set on getting veneers in Houston, you should still explore the other available cosmetic options. Doing so will help you understand how other services can enhance your smile at different price points. Each one can offer a particular set of benefits!
Let's take a closer look at the services we offer:
Dental Bonding – Do you have minor dental imperfections? If so, you may benefit from dental bonding. This affordable-and-quick treatment can improve your smile in as little as one hour! However, you'll need to have it redone every few years.
Teeth Whitening – If you want to change the color of your grin, teeth whitening is a great option to consider. Not only is it relatively quick, but it's also quite cost-effective. Of course, it can only help with tooth color, not shape or position, making it a treatment with limited capabilities.
Veneers – While veneers are the costliest option, it's the easiest way to achieve a transformational result. You can have the smile of your dreams in just a few short appointments! Best of all, you can expect your results to last for years with proper care and maintenance.
How to Make Veneers Affordable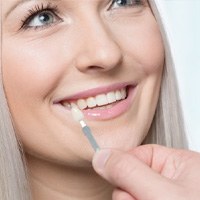 Since veneers are a cosmetic service, they're not covered by dental insurance. That means you'll need to find an alternative way to pay for your treatment. Fortunately, our team at Sunrise Dental offers third-party financing through CareCredit to help make veneers fit your budget! It allows you to split up the total cost of your treatment into smaller monthly installments. Best of all, these payment options often come with little-to-no interest attached, allowing you to save even more money. If you'd like to apply, don't hesitate to contact us to get the process started.
Porcelain Veneers Frequently Asked Questions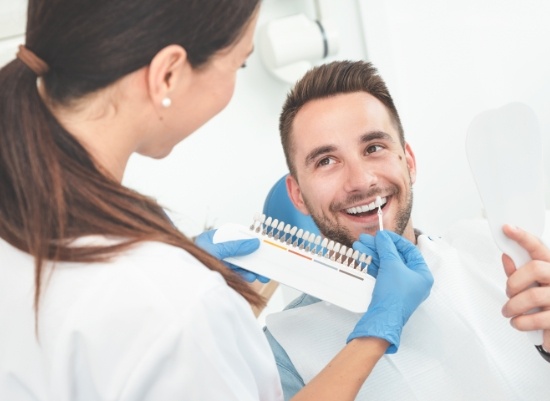 Porcelain veneers in Heights are an excellent solution to cover your cosmetic imperfections to achieve your dream smile. We know you're excited to transform your teeth, but we also understand you have a few concerns before you're ready to commit to the treatment. We'll address them during your initial consultation. While you wait for your visit, here are the answers to a few of the most common questions we're asked.
How many veneers will I need?
A veneer can be bonded to a single tooth; however, it's often best to have them applied to the front two, four, or eight teeth, because this allows them to blend in with your smile for more natural-looking results.
Will I also need gum recontouring?
Patients who are interested in veneers may also need gum recontouring, but it isn't always necessary. Often, it's recommended for patients who have a gummy smile or shorter than average teeth. The extra procedure removes excess tissue to create a larger surface to bond the veneers. Overall, it also reshapes the gum line to create a flawless smile. We'll evaluate your needs and discuss your goals to determine if you can also benefit from gum recontouring.
Can a veneer break?
Porcelain veneers are thin, but they are still durable. In fact, they can last for a decade or longer; however, a veneer can lose its bond with your tooth or break over time. If a veneer is damaged, there's no need to worry. We can quickly replace it to restore your beautiful smile. There are several things you can do to protect your veneers from any unnecessary damage, like wearing an athletic mouthguard if you play sports, keeping inedible objects out of your mouth, or not using your teeth as tools to open packages.
How much do veneers cost?
There isn't a set fee for porcelain veneers because the cost is determined by several factors, like how many teeth you're treating and if you need any additional procedures. We'll provide you with a custom estimate during your initial consultation, and a member of our team will take the time to explain the costs associated with your treatment.
How can I pay for my new smile?
Porcelain veneers are considered an elective procedure. As a result, most dental insurances won't cover the cost, but every policy differs. If applicable, we'll work on your behalf with your insurance company to maximize your benefits.
If you can't use your insurance, don't worry. We accept several payment methods to keep your dream smile affordable, like third-party financing. We will help you find the solutions you need to enhance your teeth with veneers.
How can I get started?
You can take your first step toward improved confidence by contacting our dental office to schedule your consultation. We'll create the personalized plan you need to love the smile you see in the mirror. If you have any questions or you're ready to schedule your appointment, contact our dental office today.