May 8, 2017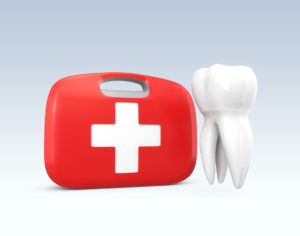 During your child's first inning as an out-fielder, a pop-fly went sailing into left field – you cheered as he made great catch, but your heart sunk as you saw your budding little athlete collapse after catching the ball. Running out onto the field, you see your child in pain – the ball went through the glove, nailing him in the mouth and knocking out one of his new adult teeth. Your first instinct was to drive right to the nearest hospital, but luckily another parent who'd gone through a similar situation told you that the ER wouldn't be able to help and that the best thing to do would be to contact your emergency dentist in Greater Heights. So, you contacted the team at Sunrise Dental and they were able to save your child's smile. In this post, learn what to do in common emergencies and why the ER shouldn't be your first choice for dental care when accidents happen.
Why Should I Contact My Emergency Dentist First?
As your preferred dentist in Greater Heights, Dr. Ahn Song, Dr. Steven Chancellor, and Dr. Howard Lee explain that only dentists can perform dentistry and that most hospitals don't even have dentists on staff, let alone on call with them.
Although you may instinctually go to the Emergency Department when an urgent oral healthcare situation arises, ERs will often turn you away because they don't have the ability to treat you – but not without billing you and your insurance for the visit first.  And in many instances, ER doctors can overlook a broken jaw and misdiagnose this condition entirely.
What Should I Do When A Dental Emergency Happens?
If you find yourself in one of the situations below, stay calm and contact us at (713) 597-8032. We'll see you as soon as possible and recommend taking the following first aid steps when dental emergencies happen:
Knocked Out Tooth – No matter the reason, losing a tooth can be alarming. Don't panic – instead, pick up the tooth by the crown (the top of the tooth) and rinse it off with water. Try reinserting the tooth in its socket. If you're unable to do this, place it in a glass of milk. Be sure to call us immediately either way.
Chipped, Cracked, or Broken Teeth – If your tooth becomes compromised in this way, collect any of the pieces and put them in a cup of milk. Don't use over-the-counter dental adhesives to attempt to repair your tooth on your own, since this will complicate professional treatment. Instead, contact our office as soon as possible.
Toothaches – Although these may seem innocent, toothaches can actually lead to serious oral infections. If you have persistent pain, floss gently but thoroughly in the area to remove any debris, and don't delay treatment.
When Should I Go To The ER?
If you have either of the situations below, go immediately to the nearest emergency room:
Uncontrolled Bleeding – With soft tissue injuries to the lips, cheeks, or tongue, the amount of bleeding can be alarming. Apply a compress to the area or a wet tea bag – if bleeding doesn't stop in 15-20 minutes, go to the ER right away.
Jaw Injury – If you fall, are in a car accident, or even an altercation and have pain in your jaw, go to the emergency room. If the ER doctors don't find any problems are you're still experiencing discomfort, reach out to us for follow up care.
Now that you know why you should contact Sunrise Dental before heading to the ER, schedule your appointment to get to know your emergency dentist before an accident happens!
Comments Off

on For Urgent Care, See Your Emergency Dentist In Greater Heights
No Comments
No comments yet.
RSS feed for comments on this post.
Sorry, the comment form is closed at this time.