May 10, 2018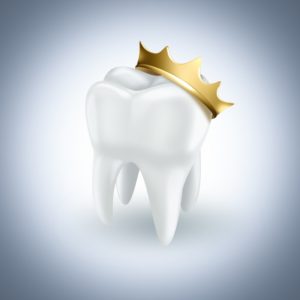 In cases of a badly cracked, dislodged or decayed tooth, you may need a new crown to restore your normal function. When you undergo this procedure, though, you want to know how long it should last. Thus, your dentist is weighing in with information on the normal lifespan of a dental crown in Greater Heights and what you can do to protect it.
What Exactly is a Dental Crown?
Before proceeding, let's establish a firm understanding of what the crown of the tooth is. It is the part that is visible above the gum line and its enamel coating protects it from the harsh environment in your mouth, where your tooth is constantly bombarded with digestive acids and foods of different consistencies and textures.
If you've suffered from tooth loss, advanced decay or other damage, your dentist may need to replace the crown.
What is Involved in a Crown Restoration?
Here are some of the steps involved in the restoration of your crown:
The first step is for your dentist to correct the problem that led to your crown failure, whether it involves performing a root canal or placing a dental implant.
Next, he'll place the tooth-colored crown made from high-strength, dental-grade ceramic material, leaving you with a fully functional and beautifully restored fixture.
How Long Will Your New Crown Last?
A crown can last up to a lifetime if cared for properly. Although it's not subject to decay, the material and gums beneath it are. Therefore, you should be sure to do the following:
Practice Oral Hygiene – Practicing excellent oral hygiene is key to extending the life of your dental crown. It will protect you from harmful bacteria and plaque that seek to work their way beneath your gum line and cause a host of problems like periodontitis, bone degeneration and tooth loss. If any of these issues occur, your crown can be compromised.
Healthy Foods – Given that bacteria are highly attracted to sugars and other processed ingredients, it's very important to eat natural foods like fruits and vegetables. A diet rich in these types of edibles will encourage the presence of certain enzymes in your saliva that provide for better digestion and overall oral health, which will help to protect your crown.
Visiting Your Dentist – A final yet very key component is your consistency in visiting your dentist for checkups, which should be every six months. Thus, if there are any problems present, your local professional will be able to address them early, better ensuring that your crown lasts longer.
When you have a crown restoration, it's a second chance at experiencing a degree of normalcy in your oral health. To learn more about the procedure, contact your dentist in Greater Heights.
About the Author
A native of the Houston area, Dr. Song Ahn earned his DDS degree from the University of Texas School of Dentistry at Houston. He has over 30 years of experience providing his patients with comfort and expert care, while staying up-to-date with the latest advancements in the dentistry field. Dr. Ahn practices at Sunrise Dental and can be reached for more information through his website.
Comments Off

on A Dental Crown in Greater Heights – How Long Should It Last?
No Comments
No comments yet.
RSS feed for comments on this post.
Sorry, the comment form is closed at this time.