June 4, 2018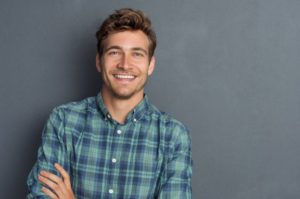 According to your dentist, men are more likely to develop gum disease, experience tooth loss, and develop certain oral infections than women. To help spread awareness and help men get to their dentist in Houston, he wanted to celebrate National Men's Health Week! Hopefully when male patients learn why they are at higher risk of developing dental disease, they'll have more incentive to visit their dentist regularly, as well as practice routine oral care.
In today's post, we'll be discussing why men are at greater risk and what they can do to protect themselves.
How are Men at Greater Risk of Dental Disease?
According to the American Academy of Periodontology, nearly 57 percent of men have some form of periodontal disease. This is significantly higher than the 38 percent of women who have gum disease in some form. This may be because men are less likely to brush, floss, or visit the dentist as often as women. It may also be due to men's higher usage of substances that harm oral health, such as tobacco and alcohol.
Additionally, the Centers for Disease Control and Prevention states that men have a higher chance of developing heart issues than woman, with 70 to 89 percent of sudden heart problems occurring in men. This results in them taking more medications that are known to cause dry mouth. Dry mouth increases the risk of cavities because there isn't enough saliva to wash away food debris and bacteria.
How Poor Oral Health Influences Other Health Factors
Having gum disease doesn't only put your oral health at risk. In fact, gum disease can increase the chances of developing other diseases you wouldn't otherwise expect. This is often linked to inflammation that gum disease causes in the body overall.
For example, according to a 2015 study published in the Dentistry journal, researchers examined the prostate of 27 men over the age of 21. All of the participants had symptoms of prostatitis, a bacterial infection of the prostate. Once treated for their gum disease, prostate symptoms improved in 21 of the participants.
Similarly, the risk of cardiac disease is also influenced by increased inflammation in the body caused by gum disease. Inflamed gums can increase the risk of heart disease, which is already more likely in men to begin with.
What Men Can Do to Protect Themselves
To protect your oral and overall health, men should make sure they're doing the following:
Brushing twice a day with a fluoridated toothpaste for at least two minutes
Flossing daily
Visiting their dentist every six months for cleanings and examinations
Keep in mind that visiting the dentist doesn't only do your oral health a favor. Your dentist in Houston can catch early signs of systemic disease since a majority of them contain markers in the mouth.
Don't wait to start a healthy oral care routine. Schedule an appointment with your dentist to confirm your oral health status today!
About the Author
Dr. Song Ahn earned his Doctor of Dental Surgery degree from the University of Texas School of Dentistry. He puts a large focus on patient comfort and keeping up-to-date on the latest advancements in dentistry to provide patients the best care possible. To learn more about his practice, contact him through his website.
Comments Off

on Celebrate Men's Health Week with Your Dentist in Houston!
No Comments
No comments yet.
RSS feed for comments on this post.
Sorry, the comment form is closed at this time.