July 2, 2018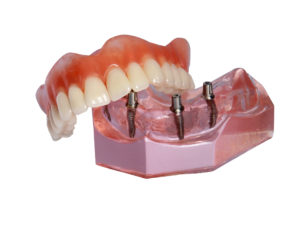 No dental treatment is right for every patient we treat, but the innovative All-on-4 implant supported denture method makes it possible for us to provide dental implant supported restorations for more patients than ever before. Unlike traditional implant dentures that are supported by evenly spaced dental implant posts, All-on-4 dentures utilize the naturally denser parts of the jawbone to provide support for the entire denture. This makes it possible for more patients to receive implant supported dentures without the need for advanced preparatory tissue grafts.  In this post, we'll review some of the many factors that make patients good candidates for All-on-4 implant dentures.

Oral Health Requirements
Before we begin any tooth replacement plan, we'll partner with you to achieve the optimal level of oral health. This ensures you will be able to restore optimal oral health and function that lasts. We'll carefully examine your smile during treatment planning appointments for warning signs of oral health concerns, including decay, gum disease, and teeth grinding and clenching.  We'll create a restorative dentistry plan to fully renew your oral health before we begin your tooth replacement plan.
Health History Concerns
We will also need to review your current and past health history to ensure you are healthy enough to complete the implant placement procedure safely. This may include working with your medical physicians to review your prescription medications. We will also discuss any past surgical experiences, so we can determine whether or not you're at risk to have an adverse response during your surgical dental implant placement procedure. If you're going to use dental sedation at any point in your implant restoration process, we will also need to determine whether you've had adverse responses to anesthetics in the past.
Meet the Sunrise Dental Center Team
At Sunrise Dental Center in Houston, we offer a wide range of preventive, restorative, and cosmetic dentistry services, including dental implant supported tooth replacement options. Whether you've lost a single tooth, several teeth, or a full row of teeth, our team can help you recreate your flawless smile. If you're ready to find out more, call to schedule a tooth replacement consultation in our state-of-the-art Houston dental office. Our team will examine your smile, discuss treatment options, and partner with you to develop a plan to fully restore your healthy, beautiful smile. We can't wait to help you get the smile back on your face.
Comments Off

on Am I a Candidate for All-on-4 Dentures?