January 11, 2019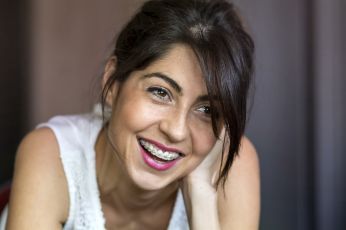 In the past, it was relatively rare to see an adult in braces. Recently, however, more and more adults are getting orthodontic treatment to straighten their smiles. In fact, an estimated 50% of orthodontic patients are now adults! And, with recent advances in treatment options, you have more choices than ever before, including discreet alternatives like Invisalign. But, regardless of which option you choose, getting orthodontic treatment as an adult is not the same as getting it as a child. Keep reading below to learn how orthodontics in Greater Heights is different for adults!
How Is Straightening Your Teeth Different as an Adult?
Here are some of the key differences between treatment for kids and adults:
Changes in the bone – In adults, the jawbone is not only harder and more "set," but it's also no longer growing. This means that treatment might take a bit longer than it would in a child or teen.
Extracted teeth – Many adults have had one or several teeth extracted, which causes permanent changes in the bone. It can be challenging to close the gap where an extracted tooth once was, but your dentist will discuss this issue and possible solutions with you before treatment begins.
Increased compliance – One of the biggest advantages in straightening your teeth as an adult is increase compliance. Adults tend to do much better with their oral hygiene, which is crucial for having a smile that looks and feels great after braces. With Invisalign, adults are also more committed to wearing their trays for the recommended 22 hours per day, which helps them get their results on time.
Risks – Unfortunately, adults are at a higher risk for a couple of different conditions, such as jaw issues or root resorption, which occurs when the body "absorbs" part of the roots and causes the teeth to become unstable. However, your dentist will be carefully monitoring you throughout treatment to catch these issues early.
Are Braces or Invisalign Right For You?
Each patient is unique, so the best way to find out whether Invisalign or traditional braces would work better for you is to schedule a consultation with a dentist who offers both options.
In general, Invisalign works for mild to moderate cases of the following issues:
Overbites
Underbites
Crowding
Gaps
For more severe issues, braces typically provide better results. Regardless of which choice is right for you, you'll be able to look forward to the straight, beautiful smile you've always wanted!
About the Author
Dr. Ahn is a graduate of the University of Texas School of Dentistry at Houston and has over 30 years of experience. He knows that orthodontic treatment isn't a one-size-fits-all approach, so he offers both Invisalign and traditional braces so he can provide an option for everyone. If you're considering orthodontics in Greater Heights and have any questions, he can be reached via his website.
Comments Off

on What Are the Differences Between Orthodontics In Greater Heights For Kids and Adults?
No Comments
No comments yet.
RSS feed for comments on this post.
Sorry, the comment form is closed at this time.