July 16, 2020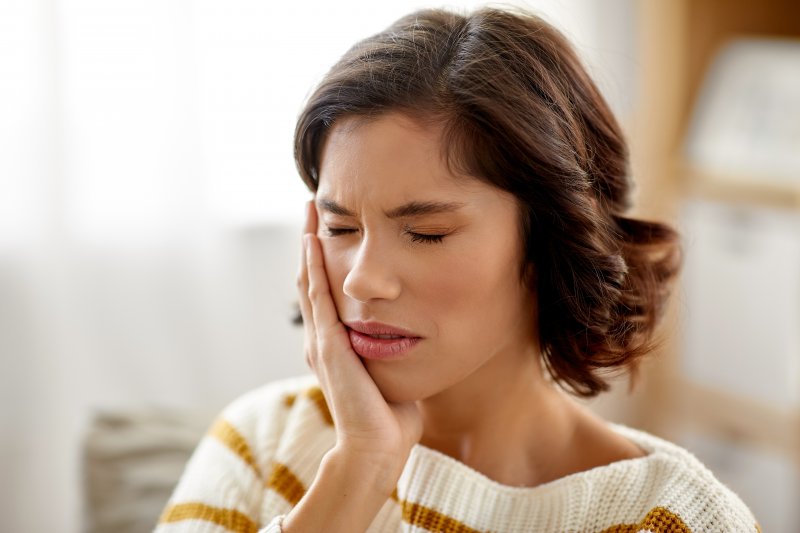 Did you know that roughly 48% of Americans experience anxiety around visiting the dentist? Plus, an additional 20% of adults put off going to the dentist out of fear of the procedure. Unfortunately, this can wreak havoc on your teeth and overall oral health. In fact, it can even be fatal if the infection or harmful bacteria spreads to other areas of your body. Therefore, your dentist in Greater Heights is sharing common signs of a toothache, symptoms of the infection spreading, and when you should schedule an emergency visit.
Common Symptoms of a Toothache
When people think of a toothache, they often think of a dull, sharp, or consistent pain stemming from their problem tooth. However, signs of a toothache could also show up like a throbbing pain in your jawbone, a swollen cheek or lymph node, or an unpleasant taste in your mouth. In fact, you may even experience unique symptoms that you would not initially tie to a toothache, like a fever or a headache. To prevent the pain in your tooth from negatively impacting other areas of your body, it is important to schedule an appointment with your dentist when you first notice any abnormal symptoms.
3 Signs the Tooth Infection Has Spread
Dehydration – When your body is fighting an infection, it needs more fluids to keep your levels balanced. If you experience darker urine, confusion, or reduction in the frequency of urination, then you may be dehydrated because of your toothache.
Respiratory issues – When bacteria from an infection in your mouth finds its way to your lungs, it can cause you to have trouble breathing.
Increased heart rate – To help heal your body, your heart pumps infection-fighting inflammatory cells into the blood. This can result in a rapid pulse rate and lightheadedness.
When to Schedule an Emergency Visit
The pain receptors in your teeth are designed to experience discomfort to communicate that something is wrong. Therefore, it is important to schedule an appointment with your dentist as soon as any abnormal symptoms come to your attention. While some of these conditions can wait until the next available appointment, like a minor toothache, others require immediate attention. If you experience any of the below symptoms, make sure to schedule a same-day visit with your emergency dentist:
A high fever (103 degrees or higher).
Bleeding that won't stop.
Difficulty breathing.
Red, swollen gums.
Pain when chewing or biting.
Experiencing fear around going to the dentist is a common phobia. However, it is important to not let that fear result in serious health conditions that can be painful, costly, and even fatal. Therefore, make sure to visit your dentist when you first experience your toothache so you can keep your oral and overall health in pristine condition!
About the Practice
At Sunrise Dental, each member of the team is united by their passion for providing affordable, quality dentistry that will exceed your expectations at each appointment. With their hand-selected, talented staff at their side, Dr. Song Ahn, Dr. Steven Chancellor, and Dr. Howard Lee use their extensive experience and training to deliver world-class care at their friendly, comfortable practice. If you need an emergency dentist in Greater Heights, please visit their website or give them a call at 713-869-9973.
Comments Off

on Can Ignoring a Toothache Be Fatal?
No Comments
No comments yet.
RSS feed for comments on this post.
Sorry, the comment form is closed at this time.