November 12, 2020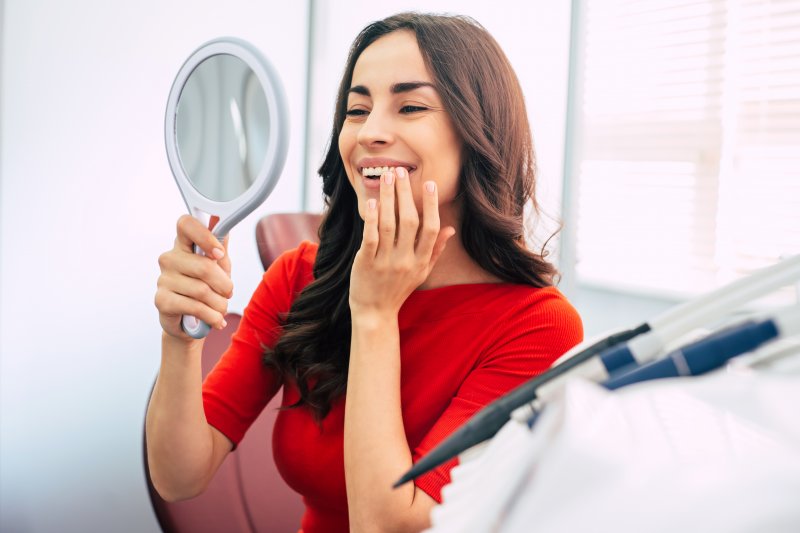 Dental implants in Greater Heights are widely known for their unmatched durability, 20+ year lifespan, and ability to preserve your jawbone and facial structure. However, patients considering this state-of-the-art tooth replacement option often have one important question on their mind, "What do dental implants feel like?" If you've asked yourself something similar, then read on for the answer!
So, What Do Dental Implants Feel Like?
Thanks to advancements in dentistry and modern technology, dental implants today are life-like in every sense of the word. Not only does their root-to-crown replacement mimic your missing tooth entirely, but the high-quality material is designed to match its function and aesthetic seamlessly! So, once you have completed the initial healing process (where you may experience some sensitivity), your dental implant will feel extremely natural.
5 Additional Benefits of Dental Implants
The ability of modern dental implants to look, feel, and function like your natural teeth is certainly substantial. However, those aren't the only reasons this state-of-the-art tooth replacement option continues to be the leading choice year after year. Dentists and patients alike also choose dental implants because they:
Stimulate your jawbone, preventing bone loss and a change in your facial structure
Can last 20+ years with proper care
Are unmatched in durability
Can be easily maintained with a solid oral hygiene routine
Hold a whopping 95% success rate
Who Is a Good Candidate for Dental Implants?
To preserve their impressive success rate, dental teams go to great lengths to ensure each patient is a good candidate. A few of the qualities they look for include healthy gums, sufficient bone density, a commitment to good oral hygiene, and no poor dental habits, like smoking. These requirements help set the dental implant up for success in the short and long-term. However, if you are not initially deemed a good candidate, don't fret! Your dental team may be able to administer treatment beforehand, like a bone graft or periodontal therapy, to get your oral health where it needs to be to effectively support dental implants.
Whether you have recently begun considering dental implants or have been thinking of using them to rebuild your smile for years, you can have peace of mind knowing they will look and feel life-like. So, if you are missing one or more teeth, take the next step toward a full smile by contacting your dentist today!
About the Practice
Sunrise Dental is where world-class dentistry, the latest techniques, and personalized experience come together. At each appointment, Dr. Song Ahn, Dr. Steven Chancellor, and Dr. Howard Lee use their clinical expertise, advanced training, and genuine care for each person in their treatment chair to deliver full, strong, beautiful smiles with dental implants. If you are looking for a dentist in Greater Heights to fill in the gaps in your smile for good, visit their website or give them a call at 713-869-9973.
Comments Off

on What Do Dental Implants Feel Like?
No Comments
No comments yet.
RSS feed for comments on this post.
Sorry, the comment form is closed at this time.