May 26, 2021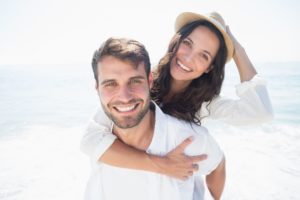 Summer is just about here, and you can't wait to spend some of your hard-earned vacation days at one of Texas' beautiful beaches with your loved ones. There's just one problem – you're self-conscious about the way your teeth look, and you don't exactly want them to be preserved in photos. Thanks to cosmetic dentistry, you don't have to deal with insecurity about your smile this summer. Here are three easy ways that your cosmetic dentist can help you achieve a beach-ready smile!
1. Teeth Whitening
Studies suggest that as many as 80% of Americans wish they had whiter teeth. Many of them try to brighten their smiles with teeth whiteners from the drugstore only to have disappointing, short-lived results.
While over-the-counter products rarely whiten your smile as much as you would like them to, professional teeth whitening from a cosmetic dentist certainly can. Most dentists provide take-home whitening kits that are several times more effective than store-bought ones. These kits typically take two weeks or less to give you the dramatic results you desire. Alternatively, you can choose in-office teeth whitening if you'd like to achieve the same results in a single appointment.
2. Veneers
Sometimes, tooth discoloration is too stubborn to respond to whitening. Veneers are a great way to conceal these stains as well as chips, cracks, small gaps, and misshapen or slightly crooked teeth. With a minimally invasive procedure, your dentist can place these thin porcelain shells over troublesome teeth to fully transform your smile in just two appointments. Each veneer is custom-made to look 100% natural, and with the right care, you can expect your veneers to last at least 10 or 15 years.
3. Invisalign
While veneers can fix minorly crooked teeth, they're often not enough. Luckily, you no longer have to wear cumbersome metal braces to straighten your teeth. With Invisalign, all you have to do is wear personalized clear aligners that gradually shift your teeth into their proper positions. These smooth trays are made of comfortable plastic and are barely noticeable once they're on your teeth. Plus, you can remove them for eating, so you can still enjoy all of your favorite summer foods. Since Invisalign treatment usually takes about 12 to 18 months, you should have a much more confident smile by next summer!
Get the Gorgeous Summer Smile You Deserve!
There's no better time than right now to explore your options for improving your smile. Schedule a consultation with your cosmetic dentist today to get started on achieving a smile that's as radiant as the summer sun!
About the Authors
At Sunrise Dental, Dr. Song Ahn and Dr. Steven Chancellor have helped countless patients in the Houston, TX area transform their smiles and boost their confidence. They each have more than 30 years of experience and have pursued extensive post-graduate training in cosmetic dentistry. They provide all of the services described in this post and more. To find out the best way to improve your smile this summer, visit their website or call them at 713-869-9973.
Comments Off

on 3 Cosmetic Dentistry Treatments That Will Give You a Beach-Ready Smile