August 22, 2021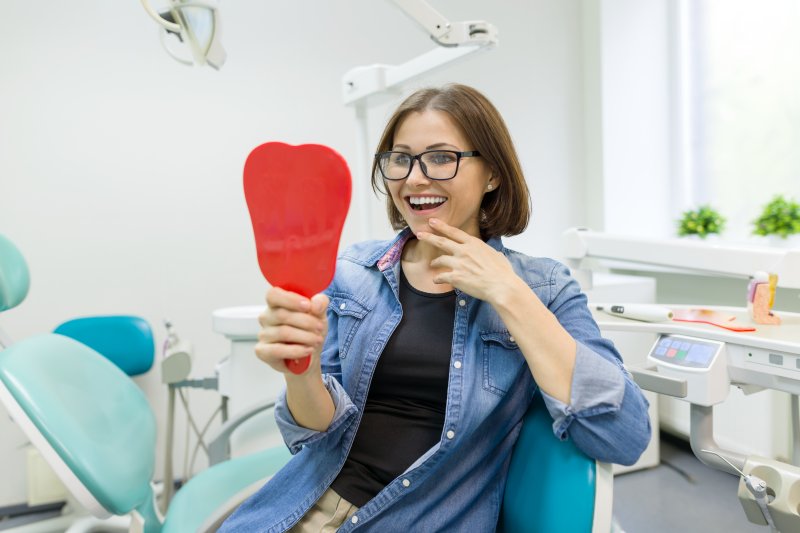 Dental implants are known for many unique benefits, such as their longevity, ability to provide a more stable bite force and chewing power, and ability to improve appearance by creating a more youthful appearance. When tooth loss occurs, it not only robs you of jawbone density but also takes away your aesthetics, which can be increasingly difficult for younger patients. However, by choosing dental implants, you can count on there being 3 ways these permanent prosthetics can help you see a more youthful and beautiful look.
You'll Maintain Greater Jawbone Density
It's no secret that tooth loss often results in the deterioration of a person's jawbone. When nothing is there to stimulate it, it cannot maintain its density. As a result, it weakens over time and leaves patients dealing with additional tooth loss and a sunken, older appearance. The lips can begin to draw inward while other facial changes begin to sag or "collapse." Fortunately, dental implants mimic the natural tooth structure and allow for continuous stimulation of the jawbone. As a result, they will fill in the gaps of your smile while also creating a more youthful appearance because of their ability to prevent jawbone deterioration.
You'll Get to Keep More of Your Natural Teeth
As it was previously mentioned, jawbone deterioration results in tooth loss. When you begin to lose your teeth, it creates an image that many people correlate with older, elderly individuals. Not to mention, with each missing tooth, natural teeth will begin to shift in an attempt to cover the gap. This will only lead to worsening conditions for your oral health. However, with dental implants, you can replace your missing teeth, giving you a complete, full smile that portrays someone who looks much younger than they might actually be.
You'll Replace Worn Teeth with New Ones
As you age, excessive wear and tear will occur over time. The amount of pressure you place on your teeth through chewing, eating, and speaking can cause them to wear down. Sugar and starch consumption as well as how well you've taken care of your teeth with regard to your oral hygiene may result in earlier wear and tear. If this is the case, you can always talk to your dentist about having these teeth extracted and replaced with dental implants. Not only will you receive new and improved teeth, but you'll no longer be worried about the extensive damage to your tooth enamel.
To answer your question, "Do dental implants make you look younger," yes, they do. While these are only three of the most common ways permanent prosthetics can turn back the clock, you will find in talking with your dentist that you can learn much more about the great benefits only dental implants can provide.
About the Author
Dr. Song Ahn is a trusted dentist in Houston who earned his DDS from the University of Texas School of Dentistry at Houston. Completing additional postgraduate education courses in dental implant surgery, restoration, orthodontics, and cosmetic dentistry, he is a Board Certified Diplomate of the American Board of Oral Implantology and International Congress of Oral Implantologists. Always willing to work with patients suffering from tooth loss, he uses his knowledge of dental implants to inspire and encourage patients to prepare for a more youthful appearance. If you are interested in replacing your missing teeth with permanent prosthetics, visit our website or call (713) 869-9973.
Comments Off

on 3 Ways Dental Implants Can Turn Back the Clock
No Comments
No comments yet.
RSS feed for comments on this post.
Sorry, the comment form is closed at this time.