Our Greater Heights Dental Technology
Here at Sunrise Dental, our team is dedicated to staying right at the forefront of new tools and techniques related to the work we do. Your comfort is important to us, and we want to make sure every experience you have here at our practicegoes as smoothly as possible. Advanced technology goes a long way in helping us reach that goal and provide the precise care patients need most. Are you ready to schedule an appointment? Patients from Greater Heights, Woodland Heights, Oak Forest, and beyond are welcome to contact us today and arrange a time to see Dr. Ahn, Dr. Chancellor, or Dr. Lee.
Sedation Dentistry
Many patients avoid the dental care they need because of fear or anxiety. Sedation dentistry can help take the edge off of these negative emotions, allowing you to feel truly at ease as our Houston team improves the health and beauty of your smile.
Digital X-Rays
In the past, X-rays were tedious, bad for the environment, and even somewhat dangerous because of the significant radiation involved. Today, our digital X-ray technology significantly improves on all of these levels, making the process of taking pictures fast and safe.
Intraoral Cameras
With the help of our intraoral camera, our team can show you detailed images of your smile and help you better understand your dental treatment.
GALILEOS 3D Cone Beam Scanner
The GALILEOS 3D cone beam scanner can create images with exceptionally high resolution in only a few seconds, making it easier than ever for us to diagnose your case and plan out precise treatment.
Laser Bacteria Reduction
Gum disease can lead to a number of serious consequences if it isn't properly treated. That is why we have invested in a special dental laser that we use to help our patients fight gum problems. This remarkable technology kills harmful bacteria beneath the gum line and stimulates the body's natural healing response. The procedure is fast, comfortable, and effective. No scalpels or sutures are required, and healing time after the treatment is very short.
L-PRF Therapy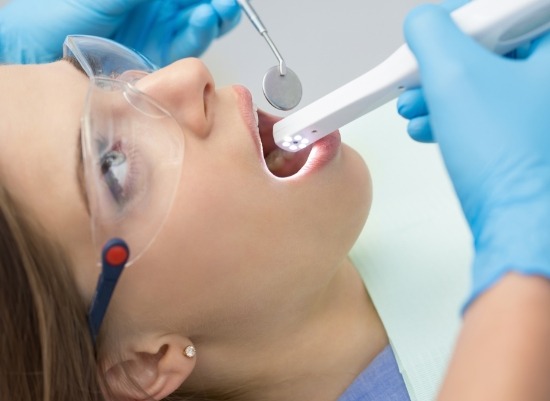 Our office embraces the latest solutions to enhance all aspects of your dental care, including the ability to promote the healing process. We offer L-PRF therapy, which acts as a bioactive band-aid to stimulate your body's natural healing response. The safe and effective treatment streamlines your recovery after dental procedures while decreasing the risks of complications.