September 13, 2017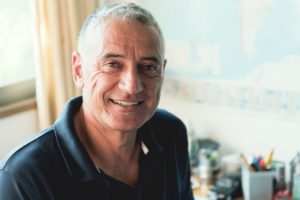 Do you have a denture that constantly makes your feel self-conscious? Are you afraid it's going to slip out while you are eating, speaking, or just walking around? Does this make you less sociable or likely to smile? If so, then you're like many traditional denture wearers in America today. In the past, when it came to replacing multiple missing teeth, removable dentures were the only available treatment, but now, thanks to dental implants, your dentist in Greater Heights can give you a set of teeth you'll always be able to rely on day to day.
Why Your Dentures Don't Feel Right
Regular dentures typically feel great the day you get them, but the problem is that this comfortable doesn't really last. Why? Because when a person is missing multiple teeth, the body naturally starts resorbing nutrients directly from the jawbone, causing it to shrink, which makes the gums change shape. The result? Loose fitting, uncomfortable dentures.
How Dental Implants Can Help Dentures
Fortunately, dentistry has stepped up to meet this challenge. With the invention of modern-day dental implants, your dentist can now give you a denture that is anchored directly into your jawbone just like your natural teeth.
A dental implant is actually a very small titanium post that is placed into the jaw to mimic the root structure of a lost tooth, and with just a few of them, they can actually support a denture. Research has shown that they offer a number of advantages over traditional removable dentures, including:
More security: After a dental implant is placed, the post actually melds with the surrounding jawbone to create a hold similar to natural teeth. Because the denture is secured using the strength of these posts and the bone, it will be much more stable than a regular denture. Plus, the prosthetic is fixed and doesn't have to be taken out for cleaning.
Better fit: Dental implants restore internal support to the jaw, which in turn prevents the bone degeneration and gum recession mentioned earlier. The result? A denture that keeps its fit for much longer.
Stronger bite: This is probably the biggest benefit of implant-retained dentures: they give patients a bite force much more similar to natural teeth. This allows them to eat a wider variety of nutritious foods, including those most traditional denture wearers have to avoid, such as raw vegetables and cooked meats. This leads to increased nutrition, and therefore overall better health.
How Can I Get Implant-Retained Dentures?
If you're sick of your unreliable dentures and want to see if this advancement could help your smile, all you need to do is consult an implant dentist in your area. After a thorough examination, they'll be able to determine if you are a good candidate for dental implants, and with that, it will just be a matter of time before you have a set of teeth you never have to worry about.
About the Author
Dr. Ahn Song is a general, restorative, and implant dentist based in Greater Heights, Houston, TX. As a Diplomate of the American Board of Implantology and the International Congress of Oral Implantologists, he's the man to see about getting implant-retained dentures. He is currently accepting new patients, and he can be contacted through his website here.
Comments Off

on The Next Generation of Dentures with Your Dentist in Greater Heights
No Comments
No comments yet.
RSS feed for comments on this post.
Sorry, the comment form is closed at this time.